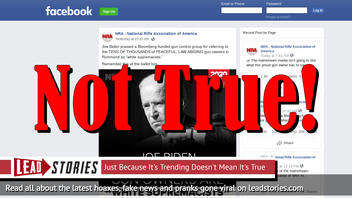 Did Democratic presidential candidate Joe Biden endorse a claim that gun owners are "white supremacists"? No, that's not true: A meme from the National Rifle Association implies that Biden made a sweeping claim that all gun owners are white supremacists. In actuality, Biden was commenting on a tweet that mentioned white supremacists who threatened violence at a pro-gun rally earlier this week in Virginia. His comments were praising gun safety advocates and offered no attacks on gun owners or rallygoers.
The claim originated from a post (archived here) published by NRA - National Rifle Association of America on January 22, 2020, under the title "Joe Biden Endorses Claim That Gun Owners Are 'White Supremacists.'" It opened:
Joe Biden praised a Bloomberg-funded gun control group for referring to the TENS OF THOUSANDS of PEACEFUL, LAW-ABIDING gun owners in Richmond as "white supremacists."

Remember this at the ballot box.
Users on social media saw this:
The meme is being used to claim that Biden, the vice president under President Obama, believes gun owners are "white supremacists" or endorses a claim that purportedly makes the same generalization. However, the original tweet does not say that all people who attended the pro-gun rally in Richmond, Virginia, on January 20, 2020, were racial bigots.
In court filings on Tuesday, federal prosecutors said that three alleged white supremacists were planning deadly attacks at the Richmond rally in the hopes of inciting a "full-blown civil war," according to The Washington Post.
Here is what Biden said in his tweet:
The courage shown today by the lawmakers, staff, and gun safety advocates in Richmond is inspiring. It's long past time the calls for reform are met with concrete action that ends our gun violence epidemic. #IStandWithVirginia today, and every day, until the job is done. https://t.co/ouiZVkgzrT

-- Joe Biden (Text Join to 30330) (@JoeBiden) January 21, 2020
The NRA post links to a Breitbart story that also claims Biden was "endorsing the view of 13 activists labeling Virginia attendees 'white supremacists.'"
Readers of the article may infer that Biden and the young activists believe all pro-gun rallygoers are white supremacists. However, neither Biden nor the young activists made any such sweeping claim.
Concerns had been building online in recent weeks that the rally at the State Capitol would attract extremists, anti-government militia groups and white supremacists - in addition to law-abiding gun owners who do not support those fringe groups.
The Post reported that there were no reports of violence, and authorities made only one arrest at the rally.