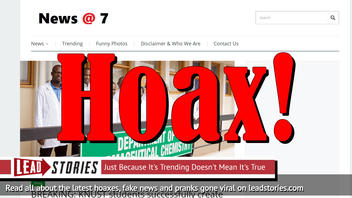 Did students in Ghana successfully create a vaccine that cured a patient who had the deadly coronavirus? No, that's not true: The story is a hoax, and the site making the claim is related to a global network of fake news sites that has since been shut down. There is no known vaccine for the current coronavirus, which originated in Wuhan, China, last week.
The claim first surfaced in an article published by News7pm.com on January 27, 2020, titled "BREAKING: KNUST students successfully create vaccine for Coronavirus; Côte d'Ivoire patient cured - Ghana Latest News" (archived here). It opened:
Department of Pharmaceutical Chemistry of the Students of the Department of Pharmaceutical Chemistry of the Kwame Nkrumah University of Science and Technology (KNUST) have successfully created and tested a Coronavirus vaccine.

The 8-mmeber medical student team from KNUST completed works on the vaccine last week but travelled to Ivory Coast when the first case of coronavirus was reported in the country this weekend. The students told the press that two of them were in China on an exchange program when the first case of the virus infection was reported. They collected samples of the virus from China to their laboratory on campus.

Professor Dr. Israel Nluki, who supervised the students reports from Abidjan that the patient has shown significant signs of recovery after the vaccine was administered.

"He should recover fully under 48 hours", Prof. Dr. Nluki said. (KNUST)
Users on social media saw this:
The team is headed to China!
The made-up story claimed students at Kwame Nkrumah University of Science and Technology (KNUST) in Ghana developed the vaccine and hailed its use in curing a coronavirus patient in Ivory Coast. As of January 29, 2020, at least 130 deaths are blamed on the outbreak, and The New York Times reported that Chinese officials had confirmed 6,000 cases of the virus.
The image featured in the article was stolen from another site that profiled the university's pharmaceutical chemistry department in 2018.
Users who scroll down to the bottom of the News7pm.com story may notice that it is labeled as satire. The warning in the footer was copied from a famous hoax website.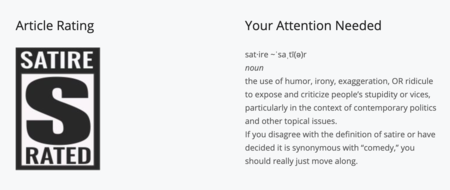 The News7pm.com site shares an Adsense account with jetsanza.com and a Google Analytics account with breaking-cnn.com, a site pretending to be CNN. These two sites have been linked to or were part of a large network of Ghana-based fake news websites. Many of these sites have since been shut down.
We wrote about News7pm.com before. Here are our most recent articles that mention the site: