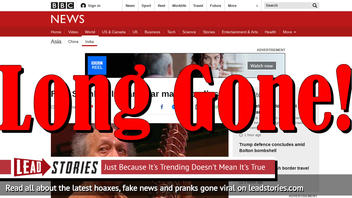 Did Indian sitar maestro Ravi Shankar recently die? No, that's not true: Shankar died in December of 2012, in a San Diego hospital - not in January of 2020 as many Facebook posts would lead you to believe. A BBC obituary reporting Shankar's passing in 2012 was being widely shared again by people who apparently failed to notice it was dated more than seven years earlier.
The obituary can be found in an article (archived here) where it published by BBC.com on December 12, 2012, under the title "Ravi Shankar, Indian sitar maestro, dies". Yet, this is an example of what one upset fan posted on January 27, 2020:
So sad to hear of his passing.
I listen to his music often whether in prayer, study, or just for pleasures sake.
Your legacy will continue in hearts and stereos.
#ravishankar
#restinpower
#mystical
#music
This is an example of what was posted on social media:
BBC.com accurately reported on Shankar's death in 2012:
His family said he had been admitted to the Scripps Memorial Hospital in San Diego last week, but had failed to recover fully from surgery.

Shankar gained widespread international recognition through his association with The Beatles.

Indian Prime Minister Manmohan Singh described him as a "national treasure and global ambassador of India's cultural heritage".

In a statement quoted by Reuters, Shankar's wife Sukanya and daughter Anoushka said he had recently undergone surgery which would have "potentially given him a new lease of life".

"Unfortunately, despite the best efforts of the surgeons and doctors taking care of him, his body was not able to withstand the strain of the surgery," they said.

"We were at his side when he passed away.
A strange thing happens every now and then on social media when people forget that a beloved celebrity had died years earlier. Sometimes, it happens on the anniversary of a death when a memory pops up on people's Facebook timelines. Sometimes, there is no obvious reason for the re-sharing of old obituaries. Too many people just see the photo and headline without noticing the date.