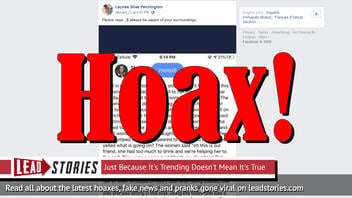 Did a mother save her 13-year-old daughter from being kidnapped by sex traffickers after she was drugged in a Woodland Hills Mall bathroom in Tulsa, Oklahoma? No, that's not true: the Tulsa Police Department confirmed there was no such incident reported, and there is no evidence to support the claim.
This post has been recycled on social media before and attributed to different cities across the U.S.
The claim surfaceed in a post (archived here) where it was published on Facebook on January, 21, 2020, urging people to read the message. It opened:
"A girl in my office told me this today. It happened this weekend at Woodland Hills Mall to her friend. Her 13 year old daughter went to the bathroom at the food court. (The one where you go down the long hallway.) The daughter went to the bathroom and the mom sat down in the mall on a bench to wait for her. She was on her phone and realized 15-20 min had passed and her daughter wasn't back. She started towards the bathroom and got to the entrance and saw 2 women holdering her daughter by the shoulders."
Users on social media only saw this description and thumbnail:
Tulsa's police department confirmed in an email to Lead Stories that there is no evidence to back the claims made in the post, and that the incident did not occur.
Less than a week ago, a local TV station in Tulsa aired a segment on the fake post, saying Tulsa police also said there is no surveillance footage to show a young girl was recently kidnapped at Woodland Hills mall.
It's also not the first time this post has appeared. A similar post circulated in 2015, saying the same incident occurred in Texas. Snopes followed up on that post and ruled it unconfirmed, as well.
But with child sex trafficking cases making up just over half of all sex trafficking crimes in the U.S. in 2018, according to Dosomething.org, the viral spread of misinformation is particularly dangerous. With Janaury being national Slavery and Human Trafficking Prevention month, it's important that social media viewers understand viral posts about sex trafficking can do more harm than good.
The Blackburn Center in Greensburg, Pennsylvania, works to end sexual and domestic violence through a variety of safe and confidential services. Its guide to understanding risk factors, and how social media can undermine prevention, provides a basis for understanding how to better protect against violence and sex trafficking.