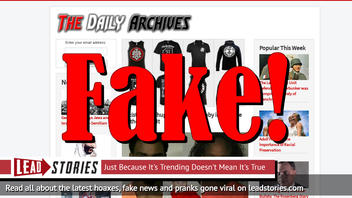 Did two black teens in Brunswick, Georgia, shoot a baby in the face "for the fun of it?" No, that's not true: A white supremacist website recycled a crime story from 2013 about a baby that was shot during a robbery attempt and made it seem like the baby was targeted and executed because it was white.
The story originated from an article (archived here) where it was published by The Daily Archives and shared on Facebook on February 4, 2020. The story title was "Racist Black Thugs Shoot White Baby in the Face for the Fun of It." It opened:
The baby was shot right in front of it's mother by two black teenage thugs. Two suspects have been arrested. They are ages 17 and 14. The mother was also shot in the leg.
Under a photo of the two suspects, and the baby, was this caption: "Brunswick, Georgia has been rocked by the unprovoked hate crime murder of a 13 month old white baby boy."
This is how the story appeared on social media:
The true story about the March 21, 2013, killing of 13-month-old Antonio Santiago is, no doubt, tragic, as Atlanta Daily World reported on August 30, 2013. That article opened:
De'Marquise Elkins, who stood accused of shooting and killing an infant after attempting to rob his mother, was found guilty Friday. Jurors took only two hours to reach a verdict.
The article continued, offering the motive put forth by police. It said:
Police say the motive for Elkins' shooting was simply that his mother, Sherry West, did not produce cash immediately when she was held up while returning with the child from the post office. West told investigators that a gunman demanded cash and shot her baby in the face after she told him she had none.

"He kept asking, and I just said `I don't have it,'" West told The Associated Press the day after the slaying. "And he said, `Do you want me to kill your baby?' And I said, `No, don't kill my baby!'"

West was shot in the leg, and another bullet reportedly grazed her ear. Witnesses called 911 and rushed to her aid. None saw the shooting, but they watched as West tried to revive her son using CPR.
Elkins, who was 17 at the time of the shooting, received a life sentence with no chance of parole, as The Guardian reported. That article opened:
A teenager convicted of fatally shooting a baby in a stroller was sentenced on Thursday to spend the rest of his life in prison with no chance of parole after the grieving mother asked a judge to punish the gunman for taking "the love of my life."

De'Marquise Elkins, 18, stood silent and showed no emotion as he was sentenced in a courtroom less than two weeks after a jury found him guilty of murdering 13-month-old Antonio Santiago during a robbery attempt.
The Daily Archives, which reframed and resurfaced this story, is a site rife with racist, white supremacist and anti-Semitic stories. Among the headlines currently on the page: "Adolf Hitler on the Importance of Racial Preservation," "Thanks, Jews: Black Violence Now Stains the Emerald Isle" and ""It's OK to be White' Labeled a 'Racial Hatred Message" by UK Media.