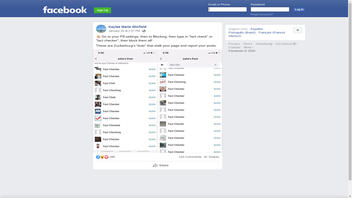 Is Facebook using "fact-checking" bots to stalk your page and report on your posts? No, that is not true. The popular social media platform says such allegations are false and that no fact-checking bots are being used in such a way.
It's unclear where this post originated, but users began sharing it widely in January of 2020. The posts would say something to this effect: "Go to your FB settings, then to Blocking, then type in "fact check" or "fact checker", then block them all! (Hundreds of them)
These are Zuckerburg's "bots" that stalk your page and report your posts and flag your groups & business posts."
An example of such a post (archived here) was published by a Facebook user on January 25, 2020. It opened:
Go to your FB settings, then to Blocking, then type in "fact check" or "fact checker", then block them all!
Users and social media saw posts like this:
Asked about the allegations, Facebook spokeswoman Andrea Vallone said simply, "That claim is not true."
What is true is users can go into their settings and within "Blocking," scroll to "block pages." Users can then block any group they want, including fact-check organizations. Facebook defines "block pages" this way: "Once you block a Page, that Page can no longer interact with your posts or like or reply to your comments. You'll be unable to post to the Page's Timeline."
For example, if a user wants to block "Fact Check," something like the below image will appear. You can block as many pages as you want.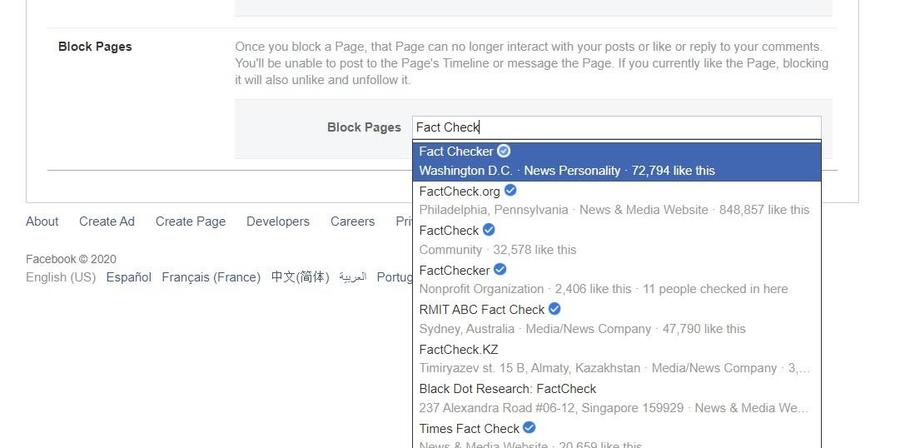 But those pages should not be confused with supposed computer bots scraping your page, stalking you and reporting your posts to whomever, as the viral posts suggest.
Users can also tighten their privacy settings to prevent people from lurking on their pages.
Lead Stories is certified through the non-partisan International Fact-Checking Network to help identify and review fake news. Since February of 2019, Lead Stories is actively part of Facebook's partnership with third-party fact checkers.
Under the terms of this partnership, we get access to listings of content that has been flagged as possibly false by Facebook's systems or its users. And Lead Stories, along with other third-party fact-checkers, can decide independently if we want to fact check it. In addition to this, we can enter our fact checks into a tool provided by Facebook, and Facebook then uses our data to help slow down the spread of false information on its platform.
Facebook hired third-party organizations -- like Politifact, Lead Stories and other organizations -- to identify fake news, review content and ensure that fewer people see misinformation or disinformation. Always under scrutiny, Facebook has continued to stoke controversy after it double-downed on its policy to continue to run political advertisements even if the ads contain false information. The ads are not be subject to third-party fact checking, Facebook CEO Mark Zuckerberg said last fall.
"What I believe is that in a democracy, it's really important that people can see for themselves what politicians are saying, so they can make their own judgments. And, you know, I don't think that a private company should be censoring politicians or news," Zuckerberg told "CBS This Morning" in December.
By contrast, Twitter has banned political ads.
We've made the decision to stop all political advertising on Twitter globally. We believe political message reach should be earned, not bought. Why? A few reasons...🧵

-- jack 🌍🌏🌎 (@jack) October 30, 2019
The political ad controversy is sure to heat up in coming months as the 2020 U.S. presidential election draws closer, and primaries get further along.