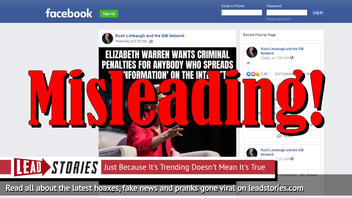 Does U.S. Sen. Elizabeth Warren, a Democratic presidential candidate, want criminal penalties for anybody who spreads "disinformation" on the Internet? No, that's not true: The meme is misleading and leaves out key details about Warren's proposal. In actuality, she wants civil and criminal penalties to apply only to those who knowingly share disinformation about when and how to vote in U.S. elections - not all sharers of fake news.
The story originated from a post (archived here) on a page named Rush Limbaugh and the EIB Network on February 4, 2020. It opened:
ELIZABETH WARREN WANTS CRIMINAL PENALTIES FOR ANYBODY WHO SPREADS 'DISINFORMATION' ON THE INTERNET

DO YOU THINK THIS IS A GOOD IDEA?
Users on social media saw this:
The meme being shared suggested that Warren would support criminal penalties for anyone who spreads fake news on the Internet. That is not true.
According to Warren's press release on the issue, which is published on her campaign's website, Warren promised to:
Push to create civil and criminal penalties for knowingly disseminating false information about when and how to vote in U.S. elections: Voter suppression efforts of any kind offend basic American values. In both the 2016 and 2018 elections, online disinformation sought to depress voter turnout by telling people they could vote via text, giving people the wrong date for election day, and more. I will push for new laws that impose tough civil and criminal penalties for knowingly disseminating this kind of information, which has the explicit purpose of undermining the basic right to vote.
Warren's press release made no mention of prosecuting everyone who knowingly shares fake news. Instead, she said she is calling for stricter penalties for those who try to undermine the voting process. Here is an article in the National Review, a conservative political magazine, that accurately reported on Warren's proposals.
The Facebook page sharing the meme is a fan site for Limbaugh. The About tab includes this note:
Disclaimer: Rush Limbaugh does not operate this Rush Limbaugh and the EIB Network fan page. We are simply enthusiasts of his work.
On February 4, 2020, President Trump announced during his State of the Union address that Limbaugh, a talk radio show host and bastion of conservatism, would receive the Presidential Medal of Freedom. It is the highest honor the government can give a civilian.
The day before the State of the Union, Limbaugh revealed he has advanced lung cancer.