Was Kobe Bryant assassinated by the NBA or Big Pharma? No, that's not true: This is a tasteless hoax being perpetrated by a conspiracy theorist who offered no evidence to support his accusations.
The claims originated from a series of videos published by Dr. Umar Johnson on January 28, 2020, one of which was titled "Kobe Bryant's death stream, by Dr Umar Johnson" (archived here). It opened:
#BLACKMAMBA #LEGENDONEHOOPDREAMING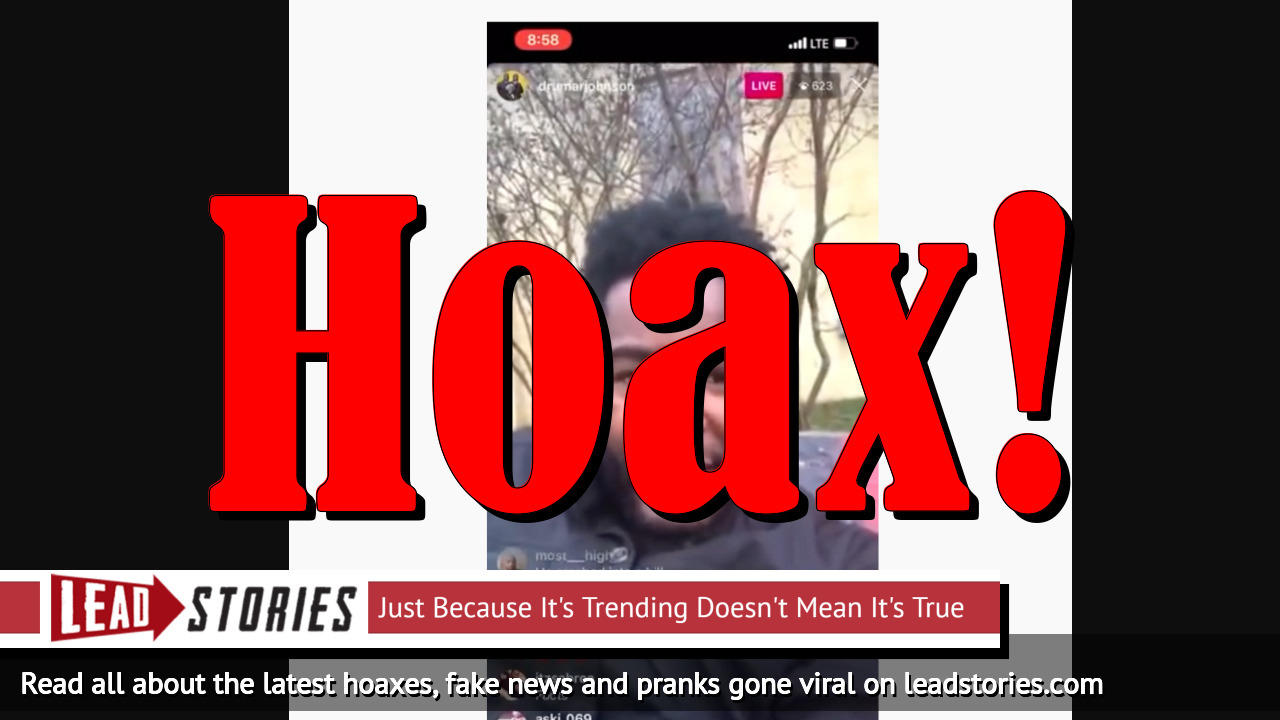 Users on social media only saw this:
Johnson, a Ph.D., is a Pan African speaker who bills himself on his website as "the most requested Black scholar in America."
Johnson made several disturbing claims in his recent videos (another one can be seen here). In one video, he shared his belief that there are three suspects in the death of Kobe Bryant. The NBA superstar and eight others were killed on January 26, 2020, when the helicopter they were flying in crashed in thick fog in Calabasas, California, according to the Los Angeles Times.
In a video, Johnson said, "The National Basketball Association is a suspect in Dr. Umar's investigation."
He went on to say, "My second suspect is the pharmaceutical industry." He repeated the phrase "pharmaceutical industry" three more times, before adding, "The Rockefeller Council on Foreign Relations and Trilateral Commission" is also to blame in the victims' deaths.
Johnson offered no evidence to support these assertions, but he claimed the NBA was upset that Bryant was starting a rival league in what Johnson called "red China."
"Kobe Bryant's business ventures posed a threat to the NBA's success," Johnson said.
Bryant was massively popular in China, and it was well known he was interested in growing the sport there. Yet there is no reporting to suggest he was trying to start a rival league in China.
Johnson later said Bryant was locked in a legal battle with "big pharma" over the right to use the phrase "Black Mamba." While it's true that Bryant had been battling a company, Hi-Tech Pharmaceuticals, over the rights to use his famous nickname, the company produces dietary and weight loss supplements. It is not a "big pharma" biomedical company that is on par with the likes of Eli Lilly, Pfizer, or Merck & Co.
Johnson's video clip ended before he may have explained why he believed the "Trilateral Commission," a discussion group founded by David Rockefeller in 1973, is also a suspect in his mind.
In 2018, The Philadelphia Inquirer reported that Johnson was facing discipline from Pennsylvania's Board of Psychology for possibly failing to have a license. The paper said:
The state Bureau of Professional and Occupational Affairs has charged Johnson, known as "Dr. Umar," with portraying himself on his website as a psychologist who practices counseling services without a state license to do either. If that is proved, the board could levy fines and order Johnson to pay for the cost of the investigation.
In 2017, The Root confirmed that Johnson had a Ph.D. in clinical psychology from Philadelphia College of Osteopathic Medicine. The article linked to a certificate from the National Student Clearinghouse, which the author used for degree verification.
The Inquirer said Johnson is a polarizing figure with controversial views:
Many social media users have lambasted his political and philosophical views, among them strong condemnations of homosexuality, interracial marriage, and ADHD medication.
Johnson's video musings on Kobe Bryant should not be taken seriously. They offer no evidence to support his wild assertions.
We wrote about fake news on YouTube before. Here are our most recent articles that mention the site: