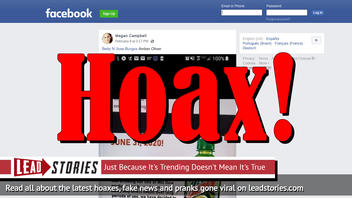 Did PepsiCo decide to discontinue the production of Mountain Dew (which it stylizes as Mtn Dew) products because they have been shown to adversely affect people's health? No, that's not true: The post is a hoax. PepsiCo has denied it plans to cease production of the popular soft drink.
The claim originated from a post (archived here) published on Facebook by several users on February 9, 2020. It opened:
June 31, 2020

PepsiCo the parent company that produces Mtn Dew products released this yesterday. "Due to the increased evidence that drinking our line of Mtn Dew products has been shown to adversely affect health over long periods of use, we have decided to discontinue production of these products.
Users on social media saw this:
The post is an obvious hoax. First, the date listed for the supposed discontinuation is June 31, 2020. This is not possible since there are only 30 days in June.
Second, PepsiCo, the food, snack and drink company that produces Mtn Dew products, told Lead Stories it is not stopping production of the popular beverage. Genevieve Ascencio, PR Director for Mtn Dew, said:
There is no truth to this statement. MTN DEW is currently in production and there are no plans discontinue. As a matter of fact, MTN DEW released a new beverage this January - MTN DEW Zero Sugar!
The false story has made the rounds online for years. On January 24, 2020, checkyourfact.com debunked the current claim. The hoax dates back to 2015 when Snopes rated a similar report as false.
As to the claim that the soft drink is unhealthy, medical experts have suggested limiting the intake of sugary drinks. For example, the Boston Public Health Commission advised:
Drinking large amounts of sugary beverages can increase the risk of gaining weight and developing Type 2 diabetes*, heart disease, and gout
Either way, fans of Mtn Dew will not be forced to give up their beloved beverage due to a lack of production because the post is untrue.