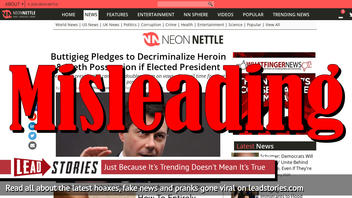 Do the policies of Democratic presidential hopeful Pete Buttigieg support lenient sentences for drug traffickers that would lead to them avoiding serving time for their crimes? No, that's not true: Buttigieg has said he wants to decriminalize prison time for possession of illicit drugs to keep people struggling with addiction out of prison and get them into rehab. He never proposed that this extend to traffickers.
The claim originated from an article published by Neon Nettle on February 11, 2020, titled "Buttigieg Pledges to Decriminalize Heroin & Meth Possession if Elected President" (archived here). The article itself was largely accurate about Buttigieg's stance on drug possession charges in comments Buttigieg made on Fox News last weekend. However, the Neon Nettle site went too far when it stated this:
Such a move indicates that the thousands of drug traffickers who plead down to possession of drugs every year would escape going to prison for their crimes




The rising Democratic presidential candidate reiterated his stance on drug possession under tough questioning from Fox News anchor Chris Wallace, saying, "Possession should not be dealt with through incarceration."
Buttigieg made clear in the interview that the focus of the criminal justice system should be on trafficking and not users. "I think what we need to focus on is where you have distrubtion," Buttigieg said.
The former mayor of South Bend, Indiana, faced intense questioning on the issue. "Mayor, you not only want to decriminalize marijuana, you want to decriminalize all drug possession. You say the better answer is treatment, not incarceration," Wallace said. "Isn't the fact that it's illegal to have, to possess meth and heroin, doesn't that at least in some way, the fact that it's illegal act as some deterrent to trying it in the first place."
Buttigieg acknowledged that under his plan, drug possession, including of heroin and meth, could be misdemeanors. "We have learned through 40 years of the failed drug war that criminalizing addiction doesn't work," he said. "Not only that, the incarceration does more harm than the offense that it's intended to deal with."
Other outlets, like the Washington Examiner, captured the exchange on Fox News accurately. The Examiner headline said: "Buttigieg vows his administration would stop punishing drug possession 'through incarceration'"
Buttigieg made similar comments to the Des Moines Register editorial board in December, saying, "I would not have said, even five years ago, that what I believe now, which is that incarceration should not even be a response to drug possession."
A Register reporter then began to ask a question: "Is that across the board, so if it's meth or coke or ecstasy, any drugs - if it's possession - isn't ..."
"That's right," Buttigieg interrupted, before adding, "It doesn't mean legalization of everything. ... But the idea that you can criminalize addiction or the idea that incarceration is the right way to handle possession, I think, has been disproven by American experience over the course of my lifetime."
Buttigieg, who supports legalization of marijuana, added, "I'm saying our enforcement efforts should be targeted at those who are willfully and sometimes violently profiting off of it - not at those who get caught up at the level of having a substance abuse problem."
Buttigieg does have one of the most ambitious plans for prison reform, saying he hopes "to cut the size of the incarcerated population by 50%" at the federal and state levels, according to his campaign's white paper on the issue.
As President, Pete will work to cut the size of the incarcerated population by 50%. And for those who are incarcerated, we will ensure that while they are incarcerated they are prepared not only to regain their freedom, but also to rejoin their communities in productive and fulfilling ways," his policy says. "Justice must include a real second chance, and incarceration should be not only about detention, but also about redemption."
NewsGuard, a company that uses trained journalists to rank the reliability of websites, describes neonnettle.com as:
A website publishing stories about politics, culture, science, and health that routinely reports false information and spreads conspiracy theories.
According to NewsGuard, the site does not maintain basic standards of accuracy and accountability. Read their full assessment here.
We wrote about neonnettle.com before. Here are our most recent articles that mention the site: