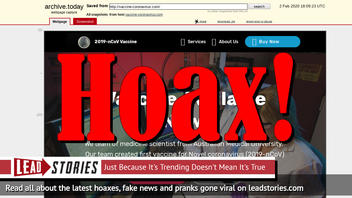 Did a team of scientists from Australian Medical University create the first vaccine for the novel coronavirus? No, that's not true: This is a scam. There is no known vaccine for the latest coronavirus outbreak, which originated in Wuhan, China. The website that was taking orders for the "vaccine" has been taken down.
The claim originated from a website (archived here) published by vaccine-coronavirus.com on or before February 2, 2020, under the title "Vaccine Available Now!" It opened:
We team of medicine scientist from Australian Medical University.
Our team created first vaccine for Novel coronavirus (2019-nCoV)
Users on social media saw this:
Hey #Australia a heads up would've been nice.https://t.co/iXUBs8ooPJ#2019nCoV #China #coronoavirus #WuhanCoronavirus #CoronavirusOutbreak #wuhanvirus #nCoV #ChinaCoronaVirus pic.twitter.com/jP5gj7DjmT

-- stained hanes (@718Tv) January 30, 2020
This is a scam, and the site, which was captured in a snapshot by archive.is, is no longer up. The people responsible for the hoax may not have been native English speakers because the site contained grammar errors in the subheader:
We team of medicine scientist from Australian Medical University.
The post referred to Australian Medical University, but there is no such institution. The closest-named place is Australian National University, and there was a fictitious Canberra address listed at the bottom of the site.
The site took orders in Bitcoin for vaccine kits. However, buyers would be left without anything valid to show for their purchase. There is no known vaccine for the current coronavirus centered in Wuhan, China, which has killed at least 361 people as of February 3, 2020, according to The New York Times.
Researchers have said it could take months before they could create a vaccine that is safe to be administered in humans.