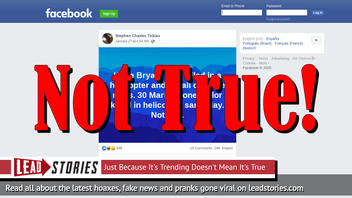 Were 30 Marines and one sailor killed in a helicopter accident the same day that NBA superstar Kobe Bryant died? No, that's not true: The military accident happened in 2005, not the same day that Bryant and eight others, including his 13-year-old daughter Gianna, were killed in a helicopter crash in Calabasas, California, on January 26, 2020.
The claim originated from a post (archived here) published by Stephen Charles Tobias on January 27, 2020. It opened:
Kobe Bryant gets killed in a helicopter and it's all over the news. 30 Marines one Sailor killed in helicopter same day. Nothing.
Users on social media saw this:
On January 26, 2005, 30 Marines and one sailor were killed when their CH-53E Super Stallion helicopter crashed in Iraq while conducting security operations.
Exactly 15 years later, Bryant, the five-time NBA champion, was killed in a helicopter crash that claimed the lives of all nine people on board, according to the Los Angeles Times. The death of the Los Angeles Lakers icon has resulted in widespread global media coverage.
It has also prompted social media posts, such as this one, that lament the lack of attention given to other less publicized deaths, including military fatalities.
Even so, the point of the original post is undermined by the mistruth it contains. The incidents did not happen on the same day this year. They occurred 15 years apart. Whether the military tragedy got much attention in the news 15 years ago is difficult to determine.
In the comments, the original poster acknowledged the incident didn't happen quite as he had described: