STORY UPDATED: check for updates below.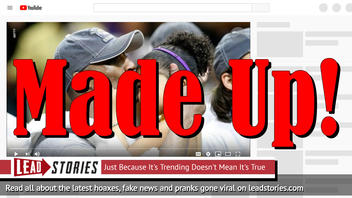 Did police say that, when they found Kobe Bryant's body in the wreckage of his crashed helicopter, Bryantwas hugging his daughter Gianna? No, that's not true: The helicopter in which Bryant was flying with his daughter broke up and exploded into flames after it slammed into a California hillside in a dense fog on Sunday, January 26, 2020. Another bizarre claim that Bryant faked his own death and is still alive is debunked by the same coroner's report that shows the hugging claim is false. Another claim that Bryant's last words to his daughter were "This is it baby" and her last words to him were "I love you daddy" is also not supported by evidence. Another false claim with no supporting evidence said that Kobe faked his death and is still alive.
Investigators have not spke out to describe the positions or descriptions of the bodies of any of the nine people who perished in the crash.
The claim originated from a video (archived here) published on YouTube on January 29, 2020, under the title of "when the police found kobe's body they say kobe was hugging his daughter gianna". There was no narration on the video, however, it opened with text that read:
WHEN THE POLICE FOUND KOBE'S BODY THEY SAY KOBE WAS HUGGING HIS DAUGHTER GIANNA
This is what social media users saw:
The publisher of this video took advantage of the intense global interest in the circumstances surrounding the death of the NBA legend. Bryant's close relationship to his 13-year-old daughter, who also perished in the crash, inspired many tributes. Video released by investigators showed a devastated scene of charred wreckage that is barely recognizable as a helicopter.
An initial report from the Los Angeles County Medical Examiner said that doctors used DNA to identify most of the victims, who all died of "blunt trauma."
Through the use of DNA and fingerprints, the Los Angeles County Department of Medical Examiner-Coroner has identified all nine of the victims who died in a helicopter crash on Sunday.

Yesterday, the department released the IDs of four crash victims. They included:

John Altobelli, DOB: 5/8/63
Kobe Bryant, DOB: 8/23/78
Sarah Chester, DOB: 6/29/74
Ara Zobayan, DOB: 1/2/70

The IDs of the three men and one woman were determined through fingerprints.

Following round-the-clock testing and analysis of DNA, the department officially identified the five other occupants in the helicopter crash and notified their legal next of kin.

They are:

Gianna Bryant, DOB: 5/1/06
Payton Chester, DOB: 7/13/06
Alyssa Altobelli, DOB: 6/16/05
Keri Altobelli, DOB: 7/23/73
Christina Mauser, DOB: 6/26/81

Furthermore, on Tuesday body examinations were performed on all nine decedents. Their causes of death were certified as blunt trauma. The manner of death was certified as accident.
A later autopsy report will likely include more details about the condition of the remains as they were found at the scene, but nothing more has been disclosed by investigators.
The preliminary death statement from the medical examiner which said Bryant's remains were identified by his DNA is proof that he is not still alive and did not fake his own death. That claim was made in this video:
Another meme claimed that "they" -- apparently meaning investigators -- said that "Kobe's last words were 'this is it baby' and Gigi said 'I love you daddy' and then it crashed":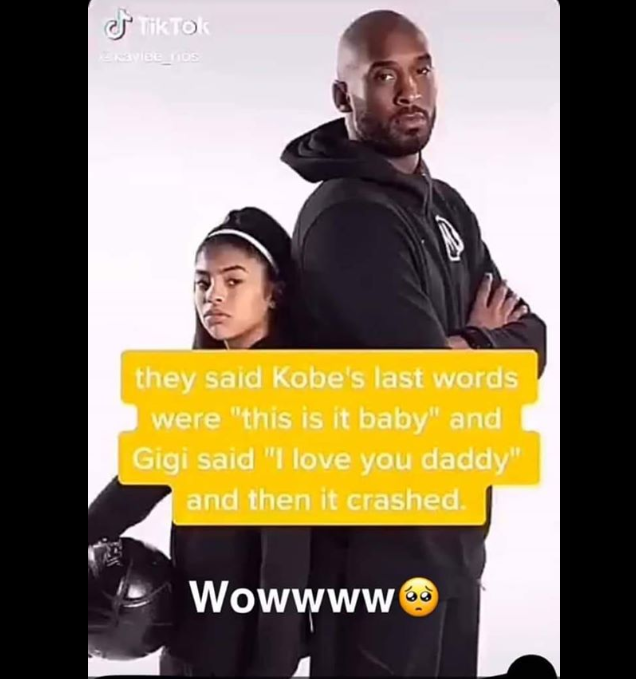 There is no record of investigators ever revealing this final exchange between father and daughter. Since the helicopter did not have a voice recorder, there is no way for it to have been heard.
The tragic death of Kobe Bryant has inspired other social media myths - misinformation that the family has said only adds to their pain - including these viral claims that Lead Stories debunked:
2020-02-04T19:13:20Z

2020-02-04T19:13:20Z

11aPT Feb 4, 2020 -- adding report that report of Kobe's last words to daughter is false.