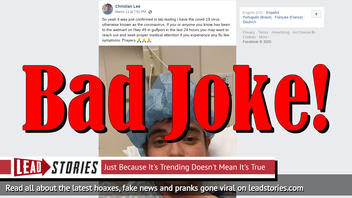 Did a man infected with coronavirus pass along the infection at a Walmart In Louisiana? No, this is not true: The man claimed that he tested positive for the COVID-19 virus and warned people that had been to a Walmart in Gulfport, Louisiana, to seek proper medical attention. But it turned out to be a bad joke, even as it racked up thousands of comments, shares and reactions, as he admitted that he did not have the novel coronavirus.
The claim originated from a post (archived here) published on Facebook by user Christian Lee on March 11, 2020. It read:
So yeah it was just confirmed in lab testing i have the covid-19 virus otherwise known as the coronavirus. If you or anyone you know has been to the walmart on Hwy 49 in gulfport in the last 24 hours you may want to reach out and seek proper medical attention if you experience any flu like symptoms. Prayers

🙏🙏🙏

"
Facebook users saw this:
The photo of Lee appears to be a selfie showing him with spots all over his face, wearing a medical gown and hat and in the hospital. In addition to Lee admitting it was a hoax, two Walmarts confirmed that was a false report by Lee. Nevertheless, the post quickly went viral and set off a panic at the Walmart in Gulfport, Louisiana.
Some followers expressed concern and confusion about the post, asking which location it was - or writing that they had been at the location recently and were concerned. Others were upset with the joking nature of a serious issue, while still others took humor in it.
An employee at the Walmart Supercenter told Lead Stories the story was "false," and that the person had not been in the store. And an employee at the Walmart Neighborhood Market, also on Highway 49, also told Lead Stories that the Facebook claim was not true.
After much criticism, Lee posted a message to his followers, confessing that his page was "entertainment."
PSA: I use Facebook as a means of entertainment and my own personal laughs. I do not care a single bit whether you approve of what I put on MY profile. This is not your safe space, nor will i censor what i put on here to appease a soul. If you can't handle the occasional goofs and gafs you should go ahead and delete me."
Even after that, users continued to ask if he was really ill, become angry or laugh with him.
User Raquel LeighAnn Eley wrote:
Unlawful hoax of a harmful disease/illness is a class a felony in the state of Ms. I know someone that claimed they had ebola and got arrested for it and charged with a class a felony. I hope this gets to the right people and you get charged the same. This is not something to play with 🤦‍♀️