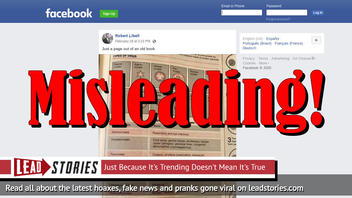 Is the novel coronavirus, which originated in Wuhan, China, just the common cold? No, that's misleading: Coronaviruses can cause different illnesses in animals and humans, including the common cold. However, they can also lead to severe diseases such as Middle East Respiratory Syndrome (MERS) and Severe Acute Respiratory Syndrome (SARS). The Centers for Disease Control and Prevention said seven types of coronaviruses could infect humans.
The claim originated from a post (archived here) published by Robert Libell on February 29, 2020. It featured the caption:
Just a page out of an old book.
Users on social media saw this:
The post is misleading - as pointed out by some replies to the post - by referencing a page out of an old book to try to mitigate concerns about the novel coronavirus. According to the World Health Organization, the novel coronavirus "is a new strain that has not been previously identified in humans."
The scanned page in the post showed "common cold" under the header "Examples of conditions or diseases." That is just one example, though. Lead Stories previously reported that there are many types of coronaviruses, and the CDC has listed seven that can infect humans:
229E (alpha coronavirus)
NL63 (alpha coronavirus)
OC43 (beta coronavirus)
HKU1 (beta coronavirus)
MERS-CoV (the beta coronavirus that causes Middle East Respiratory Syndrome, or MERS)
SARS-CoV (the beta coronavirus that causes severe acute respiratory syndrome, or SARS)
SARS-CoV-2 (the novel coronavirus that causes coronavirus disease 2019, or COVID-12)
On a separate page, the CDC referenced some of the common forms of coronavirus that affect humans:
Common human coronaviruses, including types 229E, NL63, OC43, and HKU1, usually cause mild to moderate upper-respiratory tract illnesses, like the common cold. Most people get infected with one or more of these viruses at some point in their lives. This information applies to common human coronaviruses and should not be confused with coronavirus disease 2019 (formerly referred to as 2019 Novel Coronavirus).
Also, WHO says the novel coronavirus is deadlier than the flu. As of March 4, 2020, the outbreak has killed 3,200 people, most of whom are in mainland China, according to CNN. There are more than 92,000 global cases in 70 countries and territories. There are now at least 130 cases in the United States and nine cases where the virus has proved fatal.
There is a lot of misinformation online about the novel coronavirus. Here are some other fact checks by Lead Stories: