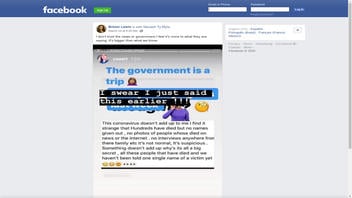 Is it true that names of people who have died from the novel coronavirus have not been published by news media or posted on the internet? No, that's not true: News organizations have repeatedly reported on the victims -- often giving life stories of those lost to the pandemic.
The claim has been spreading on Facebook, including in this post (archived here). The posts show a screenshot of a meme that begins "The government is a trip." It then opens:
This coronavirus doesn't add up to me I find it strange that Hundreds have died but no names given out , no photos of people whose died on news or internet
Users on social media saw this:
Such a claim is demonstrably false. You can start here:
The US death toll from coronavirus continues to climb. Victims include a former New York fire marshal who sprang into action on 9/11, a mother to six who was battling breast cancer, and four members of a New Jersey family. Here are some of their stories. https://t.co/fXDo7zXWeB

-- CNN (@CNN) March 21, 2020
One of the most noted stories on victims came from The New York Times, which introduced the world to the Fusco family of New Jersey. COVID-19 sickened seven family members, killing four.
7 members of a single family in New Jersey contracted the coronavirus. 2 have died and the matriarch of the family, herself sick with the virus, "doesn't realize her 2 oldest children have passed," a family member said. https://t.co/SvuWIEo3gF

-- The New York Times (@nytimes) March 19, 2020
Among those taken by coronavirus was longtime NBC News employee Larry Edgeworth; Andrea Mitchell choked up on air in remembering her colleague. Dez-Ann Romain, a principal in Brooklyn, died after falling ill with coronavirus. So did Diedre Wilke, a health care worker in Georgia.
British Prime Minister Boris Johnson shocked the world early on March 27, 2020, when he announced he was sick with the virus.
Over the last 24 hours I have developed mild symptoms and tested positive for coronavirus.

I am now self-isolating, but I will continue to lead the government's response via video-conference as we fight this virus.

Together we will beat this. #StayHomeSaveLives pic.twitter.com/9Te6aFP0Ri

-- Boris Johnson #StayHomeSaveLives (@BorisJohnson) March 27, 2020
Johns Hopkins keeps a real-time tracker of coronavirus cases worldwide. To date, nearly 600,000 people have been infected, including more than 100,000 in the United States, which has the highest incidence of COVID-19 in the world.
The pandemic has killed about 27,000 people worldwide, including more than 1,500 in the United States.