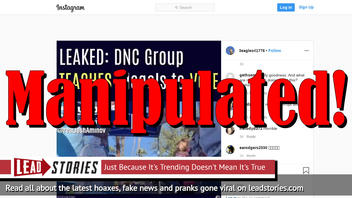 Was a DNC group caught on video teaching illegal immigrants how to vote illegally? No, that's not true: A video purporting to catch someone with a voter registration group linked to the Democratic National Committee was edited to inaccurately to show its interaction with a man who falsely claimed not to be a U.S. citizen. The group was not connected to the DNC, and there was no evidence in the video of anyone "teaching" him to vote illegally.
The claim originated from a YouTube video (archived here) posted on January 22, 2020, in its full form, and a shorter video (archived here) where it was posted on Instagram on Febuary 29, 2020, under the title "LEAKED: DNC Group TEACHES Illegals to VOTE". The YouTube video description read:
UNDERCOVER HEROES. One of our hosts, Joe Baswari, and our friend, Josh Aminov, approached a booth from AZ Act Blue 2020 at the Phoenix Women's March on Sunday, 1/19/20, disguised as illegal immigrants seeking to vote.

After asking the organization's co-founder, Richard Gooding, about how to vote as non-citizens, asking if they "support illegals," the staffer told our undercover journalists how they could sneak around voter laws and vote as non-citizens in federal elections!
This is what Instagram users saw:
This is the full version posted on YouTube:
The shakey four-minute video was recorded in front of a voter registration table at a women's march in Phoenix, Arizona, on January 19, 2020. Richard Gooding, co-founder of AZ Blue 2020 - a political group with the goal "to elect Democrats at every level to create a Democratic governance in Arizona by 2020" - was at the table helping citizens fill out voter registration forms.
Josh Aminov, who described himself in his Twitter profile as a field representative for "Students for Trump", is heard telling Gooding: "I like Democrat, but I come here illegally. Can I register?" Gooding replied: "No, you can't."
Joe Baswari, whose Twitter profile says he is an ambassador for a Phoenix-based student movement "Turning Point USA", falsely tells Gooding in a fake accent that is apparently intended to sound Middle Eastern, "I'm from the Middle East. I came here to study." Gooding asks him where he is a student, and Baswari replies: "Over at ASU. I want to vote to get Trump out of office." Gooding then tells him: "You have to get your citizenship to vote." After Baswari asks "I have to get my citizenship? There's no way for me to vote?" the video goes black, and the caption reads "CAMERA SHUTS OFF".
Gooding told Lead Stories that the audio heard next was moved from a later part of the conversation to make it sound as if it was a continuous conversation.
"Well, there is. You'd have to tell me you're a citizen when you're not." He then explains to the two men that they could get a federal form from the Arizona Secretary of State, in which they declare they are U.S. citizens. "But it's illegal," he tells them.
In fact, Arizona allows anyone who does not have a document to prove their citizenship to sign a federal form declaring that they are citizens. Signing it falsely is a crime. Gooding told Lead Stories he does not use those forms in his voter registration drives.
Gooding said the two men "just kept pestering us, aggressively asking questions," he said. "I figured out what they were doing and told them it would be illegal. I said, 'You know to do that is illegal'"

Where the video ends was "not my last statement," Gooding said.

Gooding said he was interviewed by an Agent Knuth with the Arizona Attorney General's Office about the video. He did not know who had provided the video to the investigator. Gooding said the agent assured him that he had concluded nothing illegal was done.

Katie Conners, a spokeswoman for the Arizona Attorney General's Office, told Lead Stories she could not comment on the investigation, but she said their Elections Integrity Unit has several matters under investigation.
Basrawi promoted the video on social media, suggesting it revealed a scandal.
BLOW THIS UP https://t.co/Hbq7tMvZ4n

-- Joe Basrawi (@JoeBasrawi) January 24, 2020
Basrawi has not responded to Lead Stories' direct messages via Twitter.
We concluded this claim was false because Gooding's group is not affiliated with the DNC, and there is nothing in the video supporting the claim he was teaching "illegals" to vote. We also concluded the video was edited to mislead the viewer.