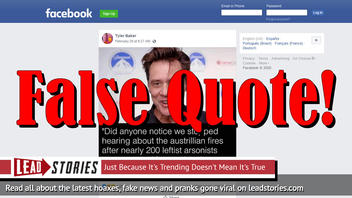 Did actor Jim Carrey say that 200 "leftist arsonists" were arrested for starting the Australian bushfires, and that it wasn't due to climate change? No, that's not true: Carrey never made such a statement about the bushfires that ravaged the country near the end of 2019 and into the new year. The meme has gone viral and was particularly popular among climate skeptics, but the sentiment doesn't mesh with Carrey's political leanings.
The quote originated in a post published on Facebook on February 29, 2020, by Tyler Baker (archived here) with the following text:
Did anyone notice we stopped hearing about the austrillian (sic) fires after nearly 200 leftist arsonists were arrested for starting then, and it wasn't 'climate change' ...?
Users on social media only saw this:
The post has generated tens of thousands of shares, comments, and likes, but it's entirely made up. Carrey never made the statement. The false quote features a glaring misspelling of the word "Australian."
The claim that about 200 people in Australia were charged with arson for deliberately starting the bushfires has been debunked by Vox and The Guardian. It had been shared to undercut suggestions that climate change had been responsible for the fires. According to Vox:
Let's unpack what's going on here. The source of the "nearly 200" people being charged with arson claim is a news release from the New South Wales Police Force on January 6, 2020. What the release actually says is that legal action was taken against 183 people since November 8, 2019, for fire-related offenses, including things like improperly discarding cigarettes or not taking enough precautions around machinery, i.e. not arson. Legal action "ranges from cautions through to criminal charges," according to NSW police, so not everyone is being charged with a crime. And not all of these penalties are for incidents linked to the wildfires.

It turns out that only 24 people are currently facing criminal charges for deliberately igniting fires in New South Wales, and even fewer have actually managed to start large fires. Remember that this is the number of people charged over the course of three months. There have been thousands of bushfires burning across Australia since September, scorching an area larger than West Virginia. As of Thursday morning, there were close to 150 different fires burning across New South Wales. Many of them are burning in remote, sparsely populated areas. So clearly this is not just the work of prolific pyromaniacs.

Officials in the state of Victoria have also refuted arson as a major cause of bushfires. "Police are aware of a number of posts circulating in relation to the current bushfire situation, however currently there is no intelligence to indicate that the fires in East Gippsland and north-east Victoria have been caused by arson or any other suspicious behaviour," a police spokeswoman told The Age on Thursday. In the State of South Australia, 10 people have been arrested since September for deliberate or reckless fire behavior.
Carrey is known for sharing his artwork on Twitter, which often reflects his progressive views. Here is one cartoon he drew as a commentary about climate change:
The New American Dream! Get rid of this filth and bring our blue skies back. pic.twitter.com/1ZkcTeN1Xp

-- Jim Carrey (@JimCarrey) January 30, 2019
It would not be in keeping with Carrey's political views for him to suggest the Australian bushfires were not linked to climate change. At least 33 deaths are to blame on the most recent fire season in Australia, according to the BBC.