STORY UPDATED: check for updates below.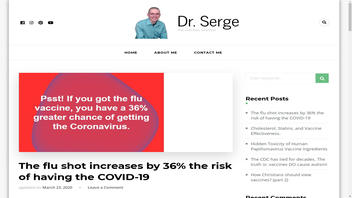 Does getting a flu shot increase your chances of contracting the novel coronavirus, or COVID-19, by 36%? No, that's not true: Doctors told Lead Stories that there is no "cross-effect" between the two, and medical institutions are still recommending that people get the seasonal flu shot.
The claim appeared in an article published by "Dr. Serge - The nutrition scientist" on March 23, 2020, titled "The flu shot increases by 36% the risk of having the COVID-19 - Dr. Serge" (archived here) which opened:
The medical community strongly advises the population to get a flu shot to help combat the epidemic of this coronavirus.

Honestly, I never made any sense to me.

It is two different types of viruses.

So not now the flu shot works for all viruses?

Concerningly, the latest research shows that getting the flu vaccine increases the risk of getting the coronavirus by 36%!!!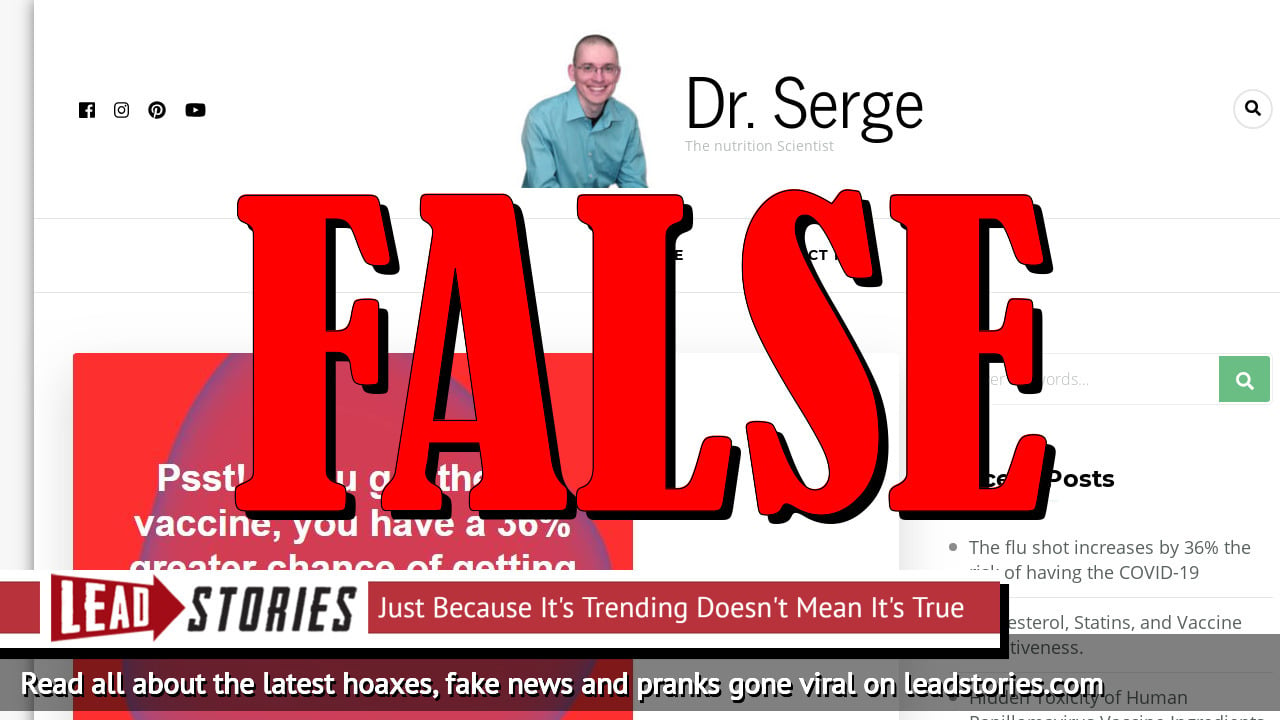 Users on social media only saw this:

Dr. Serge Gregoire, who calls himself a nutrition scientist, is wrong on several counts, says Dr. David Weber, a professor of medicine and epidemiology at the University of North Carolina at Chapel Hill. Weber said that "there is no cross-effect between the flu virus and COVID-19."
"The influenza vaccine neither protects against coronavirus nor increases one's risk of catching it," Weber added. Moreover, he said, "there are 1,500 known human pathogens, and the body reacts separately to each of them. There is no cross-effect between influenza and COVID-19. The claim about 36 percent -- not a chance."
In fact, physicians at the University of Alabama at Birmingham are recommending to their patients that they get flu shots, says university spokesman Bob Shepard.

"Since we are still in flu season, getting a flu shot continues to be recommended by UAB physicians as a precaution against influenza," Shepard said. "There is currently no vaccine to protect against COVID-19."
The Dr. Serge article, which is based on a study found on ScienceDirect, misses the fact that the study tested for an unspecified "coronavirus," not SARS-CoV-2, which causes the coronavirus disease (COVID-19) that is currently sweeping the globe.
Coronaviruses cause a number of diseases, including the common cold. We know that the coronavirus cited in the study was not SARS-CoV-2 because the study was done in 2017-2018; SARS-CoV-2 was not identified until late 2019.
In addition, the figure of 36% does not appear in the study on Science Direct. That figure comes from a March 11, 2020, story on Disabled Veterans.org, which referenced the same military study on ScienceDirect.
Again, there seems to be a disconnect between what Dr. Serge and the DisabledVeterans.org stories state and the fact that the military study looked at the 2017-2018 flu season.
Medical officials and pharmacists still strongly recommend the flu vaccine.
"Influenza leads to a different immune response than COVID-19 does, and the two do not interact with each other," said Suzanne Judd, Ph.D., an epidemiologist at UAB and the director of the Lister Hill Center for Health Policy.
Coronaviruses, she noted, circulate all the time in healthy people causing colds or no illness at all, she says. What makes this year's virus so deadly is that it is highly contagious, and that has nothing to do with any flu vaccine.
"Half the population is likely to get it before we get 'herd immunity,' and the rest of the population can fight it," Judd said. "We just want it to go slowly so we have time to develop a vaccine."
Factors that actually do put a person at risk of catching COVID-19, she said, are "diabetes, hypertension, cardiopulmonary disease, age and possibly gender," she says. "A new study out of China suggests that men are at higher risk."
Here is info about Dr. Serge Gregoire.
2020-03-26T14:44:07Z

2020-03-26T14:44:07Z

Added quotes from Suzanne Judd, an epidemiologist at University of Alabama at Birmingham and the director of the Lister Hill Center for Health Policy.