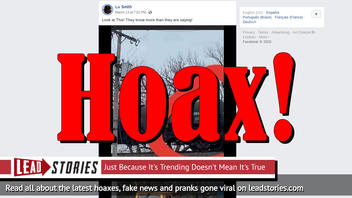 Was a tanker train spotted marked with "COVID-19" on its side, suggesting the novel coronavirus was packed inside? No, that's not true: The scientific name for the novel coronavirus was not painted on the train, nor was a train "carrying" the virus, which is a nonsensical claim. This post is a hoax, and the letters were added using photo-editing software.
The claim has appeared in multiple posts (archived here), including one published on Facebook by Lu Smith on March 13, 2020. It opened:
Look at This! They know more than they are saying!
Users on social media only saw this:
Snopes has already debunked the claim that the train was carrying "COVID-19." It concluded the photograph had been digitally manipulated.
The novel coronavirus is a viral respiratory illness and cannot be transported in trains, planes or automobiles. Nor do scientists believe it can be shipped via mail. Instead, doctors and scientists say the virus is transmitted through person-to-person contact.
Some posters are suggesting that the government wants to dispense the virus on the population. If that were true, why would the trains be marked with COVID-19? The claim seems to defeat itself.
The angle of the lettering does not match the curve of the tanker trunk - a clear indication that the photo was doctored.