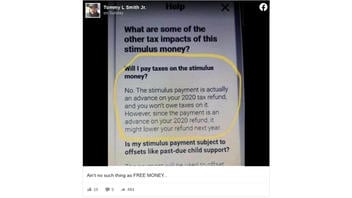 Are the stimulus checks, meant to provide financial relief during the coronavirus pandemic, an advance on 2020 tax refunds -- meaning people who get the checks might see lower refunds next year? No, that's not true: This is a misinterpretation of the bill, but that hasn't stopped it from being spread on social media, sparking outrage.
That image is being shared just as it was in this post (archived here) by Tommy L Smith Jr. on April 12, 2020, on Facebook. His post opened with these words:
Ain't no such thing as FREE MONEY...
This is what the post looked like on Facebook at the time of writing:
The claim is appearing in a seemingly legitimate image circulating on Facebook, which highlights answers to questions people might have about "tax impacts of this stimulus money." In answer to the question, "Will I pay taxes on the stimulus money?," this is the response that's highlighted:
No. The stimulus payment is actually an advance on your 2020 tax refund, and you won't owe taxes on it. However, since the payment is an advance on your 2020 refund, it might lower your refund next year.
The truth is quite different and has been addressed in articles like this one from Money.com, which is titled,"True or False: Your Stimulus Check is Just An Advance on Next Year's Tax Refund." This is how the story, updated on April 10, 2020, opened:
Uncle Sam is about to send most Americans a check of up to $1,200 -- an out-of-the-ordinary move that's leading some people to wonder if (and how) this seemingly free money will affect their tax refund next year.
The article goes on to explain how "Americans can get up to $1,200 per person with an additional $500 dollars per dependent" and how "[in] trying to make sense of it all, people have stumbled on the phrase 'advance on future tax refunds,' leading to some confusion."
Money.com outlines how the "advance" refers to "a special tax credit that'll appear on the tax return you file in 2021 for the 2020 tax year" -- a credit that wouldn't have existed without the stimulus checks.
The article adds:
So the Internal Revenue Service isn't giving you some of your 2020 tax refund upfront. The stimulus check will be in addition to what you would've otherwise expected.
The article also clarifies, for anyone who remains concerned about tax implications, that the stimulus dollars are not considered income and therefore will not be taxable -- nor will they affect income tax brackets.
Similar misinformation is being shared in a TikTok video that is also making the rounds. In the video, @hunnerj9797 speaks under the headline "HUGE PSA ABOUT THE $1200 'CHECKS' STAY INFORMED." He says the stimulus money is "just an advance on your next tax return," and goes further:
So, that means next year you're going to owe $1,200 come tax teason. Guys, stay safe out there. Media and public is not telling you exactly what this bill is.
This user's warning has been shared on Facebook. One example of those who shared the video is Eddie M. Love, who posted the video on April 12, 2020, with these opening words:
Something to think about people🤔🤔
This is how that post appeared on social media:
But commenters were wise to the nonsense being spewed by @hunnerj9797.
"He is absolutely incorrect. He is not reading the entire bill. ... It even actually states that you will owe nothing back," wrote one person. "[E]verybody on Facebook trying to be a tax accountant!" said another. "THIS IS WRONG!!!!! if you read the entire actual bill it explains that NO you are NOT paying it back next year. ... [S]top spreading this idiocy around," wrote a third.