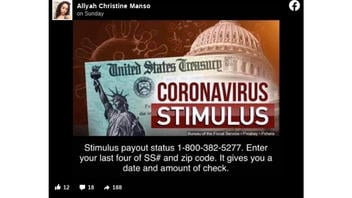 Does Calling 1-800-382-5277 or 1-800-746-6373 give Americans information on their coronavirus stimulus checks? No, that's not true: Calling those numbers -- something being pushed on social media -- instead directs callers to sex phone lines. It's a hoax.
The claim appears in a post (archived here) where it was published by Allyah Christine Manso on Facebook on April 12, 2020, under the title "Coronavirus Stimulus." It opened:
Stimulus payout status 1-800-382-5277. Enter your last four of SS# and zip code. It gives you a date and amount of check.
This is what the post looked like on Facebook at the time of writing:
Multiple posts on Facebook showed what looked like a check from the United States Treasury Department and said "Coronavirus Stimulus," but the posts are a joke to fool people into dialing sex lines. The number, 1-800-382-5277, spells out a vulgar sexual phrase. The recording says:
Are you ready to come in my back door and give me all you've got to give?"
The second one making the rounds, 1-800-746-6373, has numbers that spell out PHONE-SE(X) and the recording says:
Hey sexy. Welcome to 1-800 phone sex. It's good to hear from you. So good I'm going to give you five free minutes on this call."
The IRS does not have a phone number with information about the coronavirus stimulus checks for Americans to call amid the COVID-19 pandemic.
The IRS posted a message on their official Twitter account warning people of scams over the coronavirus stimulus checks.
Thinking about taxes? So are phone scammers! Criminals often pose as #IRS agents and try to steal your money and information. Read the signs in this #IRSTaxTip: https://t.co/D6ljuBHYuf

-- IRS (@IRSnews) April 14, 2020
According to The Motley Fool site on April 14:
The $2.2 trillion economic stimulus package, formally known as the CARES Act, was signed into law about two weeks ago. And Economic Impact Payments -- often referred to as "stimulus checks" -- are already starting to show up in Americans' bank accounts.

However, the volume of payments processed so far is just a tiny fraction of those that will be paid out to qualifying households, who will receive as much as $1,200 per adult and $500 per qualifying child under 17."