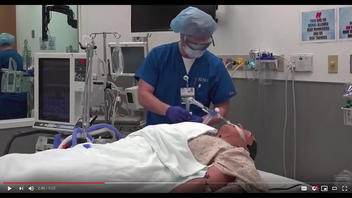 Was a New York hospital "caught red handed" using dummies in coronavirus pandemic footage? No, that's not true: A video report from Channel 4 News about the situation in New York hospitals included footage of overflowing wards and ended with a body being wheeled away on a stretcher. It then led into a segment about New York Gov. Cuomo asking for ventilators, and this part was illustrated with footage showing a ventilator being used in a training setup in a Chicago hospital. The two segments were clearly separated in the report by a fade-to-black.
The claim the hospital was "caught" appeared in a video published by YouTube channel Truth Isonn on April 5, 2020, titled "Hospital Caught Red Handed using DUMMIES in PANDEMIC FOOTAGE" (archived here) which was described as:
Hospital Caught Red Handed using DUMMIES in PANDEMIC FOOTAGE C-o-r-o-n-a Birus is a False Flag EVENT (GLOBAL)
Click below to watch the video on YouTube:
The footage the claim is based on came from this Channel 4 News video published on March 31.
Starting from 1:14, the video shows footage of Brookdale hospital in New York being overrun by COVID-19 patients. It ends on a shot of a body being wheeled out on a stretcher at around 2:35.
The screen then goes black and a new segment starts:
The narrator explains:
The New York governor today begged President Trump to send help now, saying he'd been forced to buy ventilators from China because it was like bidding on eBay to secure enough in his own country.
During this segmen,t some footage of a ventilator being used on a training mannequin was being shown. But it is clear from the context that this is not about the New York hospital anymore: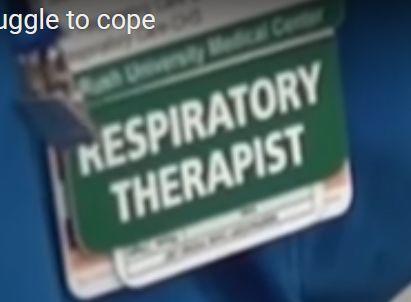 The badge of the person demonstrating the equipment clearly reads "Rush University Medical Center", which is located in Chicago.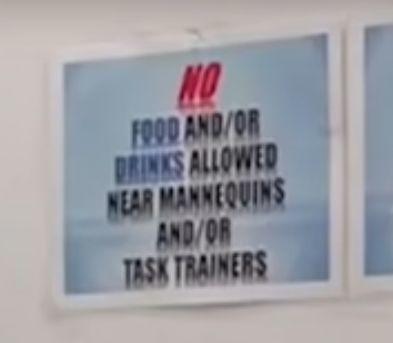 This footage seems to from a training setup, given the poster on the wall that refers to "mannequins" and "trainers".
There is nothing strange or unusual about showing footage of a ventilator when talking about them during a news segment. And it is probably safer for everyone involved to show one in a training setting instead of one being used on a real patient (not just for health but also for privacy reasons). It is also not the hospital that picks the footage to be used in a news broadcast - but rather, the news station itself.
Finally, there would also be no need to "spice up" a news report with a dummy when it already shows plenty of real people suffering in hospital wards, refrigerated trucks to store bodies and even a dead body being wheeled out.
Suggesting the doctors and nurses at Brookhaven Hospital were "caught red handed" doing something nefarious here in the middle of fighting a life-threatening pandemic is therefore not only absurd but shows a shocking disrespect for their sacrifices and heroism.