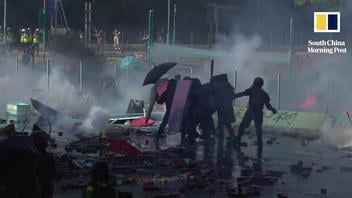 Did a protest break out in Hong Kong over 5G cellular installation? No, that's not true: A viral video suggests that video of protests was related to the fifth-generation wireless technology, but it was recycled footage from the Hong Kong anti-government protests in 2019.
The claim appeared in a post published on YouTube by Truth Isonn on April 4, 2020, titled "China Riot - 5G protest" (archived here).
Click below to watch the video on YouTube:
A keyframe reverse image search has revealed that the post is a mishmash of file footage from the anti-government protests that rocked Hong Kong for several months in 2019 and into early 2020.
This video was not of a 5G protest in Hong Kong. Indeed, at one point in the video, the footage is labeled November 11, 2019, when the demonstrations were still underway.
Images from the video link back to Reuters footage featured in this article (note the umbrellas at 1:25 in the video are seen in this Hong Kong protest footage):
HONG KONG: Hong Kong police said on Monday they arrested 36 people, the youngest aged 12, after violence during anti-government demonstrations escalated as protesters hurled Molotov cocktails at security forces who responded with water cannon and tear gas.
The anti-government unrest began in June 2019 after millions of people came out to protest a bill that would have allowed extradition from Hong Kong to mainland China.
The bill was shelved, but the protests grew into a larger pro-democracy movement, which posed a serious challenge to Beijing.
According to a wireless blog, three mobile operators have launched 5G services in Hong Kong. As Lead Stories has previously reported, concern over the safety of 5G wireless technology is a new Internet favorite among conspiracy theorists.
A keyframe from the video post showed a list of "flu-like symptoms" that it suggested 5G exposure could cause. However, an article in the U.K. edition of Wired magazine on June 12, 2019, noted that concerns about the dangers of 5G are unfounded:
Despite this, there is no solid evidence that 5G - or any mobile communications network - can have a harmful effect on human health. The upgrade is based on similar technology to preceding mobile networks, and so far no study has found a link between mobile phones and cancer, although research into the area is ongoing.
Even so, Internet rumors about the risks of 5G technology persist. They join a growing list of conspiracy theories that are being shared to scaremonger the public. You can read more of our fact checks on the topic here: