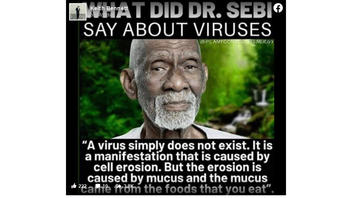 Was the late herbalist known as "Dr. Sebi" (real name Alfredo Bowman) correct when he claimed that viruses don't exist? No, this is false. Viruses do exist, as the world is witnesseing now with the novel coronavirus, which is responsible for more than 200,000 deaths worldwide. They are not just cell erosion caused by mucus from the food we eat daily.
Still, his statements about medicine still circulate on social media, including this post (archived here) on Facebook by Keith Bennett on April 27, 2020. it read:
WHAT DID DR. SEBI SAY ABOUT VIRUSES

'A virus simply does not exist. It is a manifestation that is caused by cell erosion. But the erosion is caused by mucus, and the mucus came from the foods that you eat.'"
This is what the post looked like on Facebook at the time of writing:
Sebi, who sold a line of herbal products that he said would make the body more alkaline -- and thus, he claimed, more immune to disease -- had no medical education to back up the title of doctor.
His claim about viruses not existing denies a basic scientific fact: Viruses live in the soil, in the air, in oceans and on plants -- not just in humans with our mucus-producing cells.
Dr. James Buehler, a clinical professor and chair of the Department of Health Management and Policy at Drexel University in Pennsylvania, said this in reaction to the claim in a phone interview:
That is so outrageous. It is hard to imagine having to explain that viruses do exist. I am trying to imagine someone in a position to believe that. Viruses are real. They take over the body and use the body's own cells to reproduce. You get ill and start to shed the virus yourself, which then spreads the disease to others.
Asked how a virus shed, Buehler said:
Some respiratory viruses infect the cells in the airways and nose, and these are shed by coughing, talking and sneezing. Others, like HIV, are present in body fluids and are shed via semen and blood. Clearly all viruses, from common cold to covid-19, enter the body through exposure. [Hence, reduce exposure to other people.] The body's reaction to having its cells invaded results in the illness. The severity of the illness is a combination of the virus attacking and the body's reaction."
Some commenters also called the post out on this. As one put it:
A bald face concocted idiotic lie! Viruses were here before man. This man was a disgrace to science and WAS NOT a doctor! He was a charlatan who pimped STUPID and DESPERATE people out of money!
The March 24, 2020, issue of Smithsonian Magazine shows the place viruses hold in plant life:
We know that viruses can be found nearly anywhere... a tiny percentage of these are dangerous pathogens that cause disease such as the current coronavirus ... yet the study of viruses started not in medical science, but in botany, the study of plants."
In 1857, according to the magazine, farmers in the Netherlands reported mosaic disease killing tobacco plants, an important crop. Like the COVID-19 and influenza, the plant virus moved easily from host to host. Eleven years later, viruses got their name when Martinus Beijerinck named the organism contagium vivum fluidum or virus, for short.
Sebi died in 2016, according to a website advertising his products. On a separate November 4, 2016, Facebook post, Sebi was shown on a tribute page with the words, "All Viruses are Man Made. All Viruses Have Patents." The words are pasted over a photo of him, although he is not speaking.
Sebi once told Washington, D.C., talkshow host Rock Newman that his line of herbs and foods could cure everything from chapped skin to AIDS. It was his claim of curing AIDS, lupus and leukemia that landed him in New York State Supreme Court for practicing medicine without a license, and he was barred from doing business in New York state.
There are volumes of science and medical research to back up the existence of viruses. They are ancient and, like humans, have evolved. An Oct. 19, 2015, Cosmos article states, "viruses are simple structures made of genetic material wrapped in a solid coat of protein molecules."
Because they are soft and protein-coated, there are no bones to fossilize, and viruses can't be carbon-dated the way many other organisms are. But virologists have found that, over time, viruses have grown more streamlined, according to research by Gustavo Caetano-Anolles and his colleagues at the University of Illinois, as reported in Cosmos:
Today, viruses are so small and simple, they can't even reproduce on their own. They have to enter a host cell to make copies of themselves."
According to Caetano-Anolles, viruses are ancient but not the first life form. A parent cell that gave way to both bacteria and viruses lived around 3.4 billion years ago.
The Oct. 12, 2011, article "Going Viral" in Science Translational Medicine stated:
Viruses are very real. Viruses are clever microbes that flourish by evading a host's defenses, and they have survival strategies. Some cause cancers of the colon, prostate and malignant glioma."
Moreover, the Encyclopedia Britannica states that viruses can invade and infect bacteria. In independent studies in 1915 and 1917, lesions in cultures of bacteria were discovered and attributed to an agent called bacteriophages ("eater of bacteria"), now known to be viruses.
Viruses are even helping humans advance technology: Scientists at MIT have used benign bacteria viruses to improve lithium storage batteries. Here is a video.

To the question of mucus: Sebi claimed that his herbs and a high alkaline diet will reduce human mucus and can raise human resistance to viruses. But according to the March 19, 2015, Medical News Today, "Mucus - which is made of glycoproteins and water -- traps pollution and foreign particles before they can do harm to the lungs."
Harvard University's Science in the News bulletin of March 16, 2018, said that mucus also protects the body from invading foreign particles.
The creation and coughing up of phlegm is a way for our lungs to get rid of infectious microbes. If we manage to think beyond that disgusting phlegm lodged in our throats, we can start to appreciate that our bodies constantly produce mucus to help keep us healthy. In particular, mucus can assist our immune systems by acting as a natural filter for the bacteria we encounter. Mucus is a protective substance that's excreted from multiple areas of the body, such as the mouth, sinuses, throat, lungs, stomach, and intestines. Mucus itself consists of multiple constituents, but its major component is a substance called mucin. The mucins in mucus can work as a selective barrier, lubricant, or viscous material. Mucus protects surfaces all over our body, which helps us live alongside many different microbes."