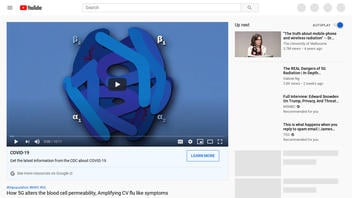 Do 5G waves penetrate red blood cells in the lungs, making them easy prey for COVID-19 to enter and cause oxygen starvation? No, that's not true: The main study used to support the claim is about Wi-Fi, not 5G signals. Scientists have proven that 5G broadband can't enter the body because skin protects the internal organs, and engineering experts point out that the 5G signal has such limited scope that signals are blocked by common objects like trees and buildings
The claim originated in a video (archived here) where it was posted on YouTube by the Natural News on May 7, 2020, with the title, "How 5G alters the blood cell permeability, Amplifying CV flu like symptoms." It opened:
Can 5g exposure alter the structure and function of hemoglobin causing coronavirus patients to die from oxygen deprivation? This is the subject we are going to explore in a mini documentary.
This is what the video looked like at the time it was posted:
The published study cited in the video is titled Wi-Fi is an important threat to human health as this screenshot shows: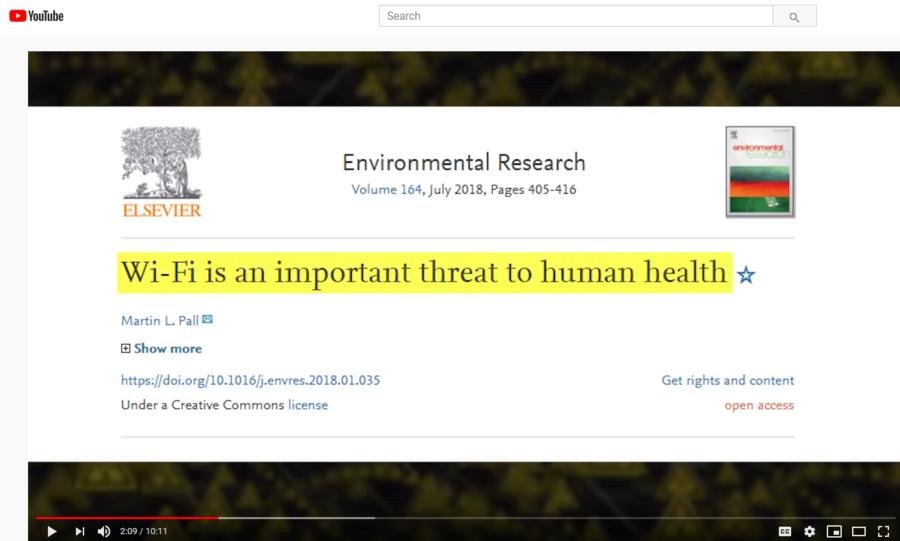 This study is about Wi-Fi and has nothing to do with 5G technology. It also has been widely criticized by scientists.
The video goes on to claim that Microsoft co-founder Bill Gates will use 5G to sicken people and then, through mandatory vaccination, attack the testicles and sperm count of men worldwide to spread infertility.
On Natural News' first claim, that 5G weakens red blood cells for coronavirus to attack: The virus doesn't enter the body via blood cells but rather it goes to mucus membranes in the respiratory system. First it goes to the nasal mucus, then downward to the throat and on into the airways where it enters the lung tissue.

Second, 5G waves are no more capable of entering the body than 3G or 4G waves. According to experts on the biological effects of electromagnetic radiation:
Radio waves become safer at higher frequencies, not more dangerous. At higher radio frequencies, the skin acts as a barrier, says Dr. Marvin C. Ziskin, an emeritus professor of medical physics at Temple University School of Medicine. For decades, Ziskin explored whether such high frequencies could sow illness. Numerous experiments support the safety of high-frequency waves because skin shields the internal organs, including the brain, from exposure.

Human skin blocks the even-higher frequencies of sunlight, says Christopher M. Collins, a professor of radiology at New York University who studies the effect of high-frequency electromagnetic waves on humans.
The Natural News video goes on to say that 5G waves are, or can be, aimed at a particular person to cause harm.
But LifeWire, a technology website, debates the claim:
Due to the type of signal that 5G cell towers transmit, their reach is severely limited to devices in close proximity. Many networks are operating on 5G radio frequencies called millimeter waves that are capable of carrying lots of data. But while 5G networks support faster connections, they are often limited to less than one square mile of coverage. According to LifeWire.com, radiation comes in two types: Ionizing radiation and non-ionizing radiation. Ionizing type can harm living cells and non-ionizing, which includes 5G broadband, is harmless.
In a comprehensive article titled Conspiracy Theories Debunked, Digital Trends Magazine writes:
A number of scientific studies have been conducted on the link between non-ionizing waves -- which are used for TV transmissions, and yes, 5G -- and human health. Only the upper end of the electromagnetic spectrum, which includes X-rays and gamma radiation, is "ionizing," which essentially means that they can break apart molecular bonds and damage DNA. Even the highest of 5G waves are far below the boundaries between ionizing and non-ionizing waves."
And the New York Times took apart the 5G radiation conspiracy in a July 16, 2019, article headlined "The 5G Health Hazard That Isn't -- how Bill Curry, one consultant, hired by the Broward Co. school system in 2000, and his inaccurate chart led to unwarranted fears of wireless technology."
Natural News' video also attacks billionaire philanthropist Gates who, through his work with the Bill and Melinda Gates Foundation, promotes birth control for overcrowded countries and vaccines to wipe out a number of diseases. The video states:
"Once you are given the Bill Gates vaccine, if you are then subsequently exposed to 5G electromagnetic pollution, whatever was in the vaccine will be driven into your cells with a potentiation that's created by the voltage-gated ion channels, so effectively this means that Bill Gates can put very low amounts of toxins into the vaccines, knowing that those toxins will be very aggressively driven into, for example, testicular tissue, sperm tissue, damaging sperm production, leading to the infertility that Bill Gates has been trying to achieve."
COVID-19 vaccines are now in developmental trials in Britain, Israel, Sweden, China, the United States and at least nine other countries, all with differing formulas. None of them is "the Bill Gates vaccine."
Finally, the video refers to COVID-19 as the bioengineered Wuhan virus. Forbes Magazine cites the New England Journal of Medicine's article about how the genetics of the virus show it evolved naturally and it bears no marks of lab engineering.
"Strong clues had already emerged by February 26, 2020, when a Perspectives piece was published in the New England Journal of Medicine. Of course, scientists tell us that SARS-CoV-2 did not escape from a jar: RNA sequences closely resemble those of viruses that silently circulate in bats, and epidemiologic information implicates a bat-origin virus infecting unidentified animal species sold in China's live-animal markets."
Lead Stories previously debunked this claim in a story titled "Fact Check: There Is NO Evidence China Created, Then Unleashed Coronavirus As Bioweapon."