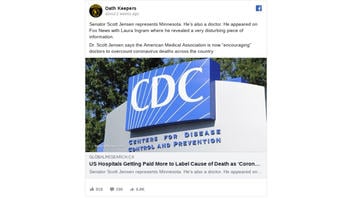 Are U.S. doctors encouraged by hospitals and the American Medical Association to list COVID-19 on a death certificate when the novel coronavirus was not the cause of death? No, that's not true: While hospitals may get additional Medicare or Medicaid reimbursements for COVID-19 patients, there is no evidence this has resulted in doctors being incentivized to lie on a death certificate. The guidance cited in articles making the claim that overcounting was encouraged is not from the AMA, but the federal government, and it does not include such encouragement.
The claims suggesting hospitals are overreporting COVID-19 cases for financial gain have appeared in Facebook posts like this one (archived here), which was published on April 25, 2020. The post links to an article published on a site known for promoting false stories and conspiracy theories and opens with these words:
Senator Scott Jensen represents Minnesota. He's also a doctor. He appeared on Fox News with Laura Ingram where he revealed a very disturbing piece of information.

Dr. Scott Jensen says the American Medical Association is now 'encouraging' doctors to overcount coronavirus deaths across the country."
This is what the post looked like on Facebook at the time of writing:
The basis for this claim stems back to comments made by Jensen in an April 8, 2020, interview with Fox News' Laura Ingraham. Jensen did not say the American Medical Association was encouraging physicians to up their reporting numbers; in fact, he never mentioned the AMA. How anyone made that leap to say the association was encouraging overreporting is unclear.
What Jensen and Ingraham did talk about on April 8 was a new report titled, "Guidance for Certifying Deaths due to Coronavirus Disease 2019 (COVID-19)," which was issued by the U.S. Department of Health and Human Services and attributed to the Centers for Disease Control and Prevention.
The April 2020 report's purpose was "to provide guidance to death certifiers on proper cause-of-death certification for cases where confirmed or suspected COVID-19 infection resulted in death." The striving for accuracy in death counts, the report said, "is critical to ongoing public health surveillance and response."
The report offered this guidance for instances where a diagnosis isn't definitive:
In cases where a definite diagnosis of COVID-19 cannot be made, but it is suspected or likely (e.g. the circumstances are compelling within a reasonable degree of certainty), it is acceptable to report COVID-19 on a death certificate as 'probable' or 'presumed.' In these instances, certifiers should use their best clinical judgement in determining if a COVID-19 infection was likely. However, please note that testing for COVID-19 should be conducted whenever possible."
Jensen took issue with "the idea that we're going to allow people to massage and sort of game the numbers," he said in the interview. He also balked at Dr. Anthony Fauci's assertion that claims about padded numbers of COVID-19 deaths are "conspiracy theories" and "nothing but distractions." Here's what Jensen told Ingraham in response to Fauci's words:
I would remind him that anytime health care intersects with dollars it gets awkward. Right now, Medicare has determined that if you have a COVID-19 admission to the hospital, you'll get paid $13,000. If that COVID-19 patient goes on a ventilator, you get $39,000, three times as much. Nobody can tell me after 35 years in the world of medicine that sometimes those kinds of things impact on what we do."
Here's the full interview:
Lead Stories reached out to Jensen several times, seeking an interview, but did not get a response. Jensen, however, clarified that, "he did not think that hospitals were intentionally misclassifying cases for financial reasons," according to a reporter who spoke with him for FactCheck.org. "But that's how his comments have been widely interpreted and paraded on social media."
Jensen was very specific in the interview about the hospital Medicare reimbursement amounts for COVID-19 patients: $13,000 for an admission and $39,000 when a ventilator is required.
We set out to confirm those numbers, but a spokesperson for the Centers for Medicare & Medicaid Services (CMS), who didn't want to be named, would not offer any specific figures, saying a number of factors go into determining payment rates, including "the patient's principal diagnosis, the severity of illness, the treatment strategy and the procedures performed during the stay."
It's no surprise that a stay requiring a ventilator might cost more than one that does not. Likewise, the CMS spokesperson said, "Medicare adjusts hospital payment based on geographic variation of local costs."
The numbers tossed out by Jensen for Medicare reimbursements do line up with projections from the Kaiser Family Foundation, a nonprofit organization that specializes in health policy analysis. On April 7, 2020, the foundation published an article titled, "Estimated Cost of Treating the Uninsured Hospitalized with COVID-19," in which it said the following:
To project how much hospitals would get paid by the federal government for treating uninsured patients, we look at payments for admissions for similar conditions. For less severe hospitalizations, we use the average Medicare payment for respiratory infections and inflammations with major comorbidities or complications in 2017, which was $13,297. For more severe hospitalizations, we use the average Medicare payment for a respiratory system diagnosis with ventilator support for greater than 96 hours, which was $40,218. Each of these average payments was then increased by 20% to account for the add-on to Medicare inpatient reimbursement for patients with COVID-19 that was included in the CARES Act."

While the Coronavirus Aid, Relief, and Economic Security (CARES) Act has increased Medicare reimbursements to hospitals for cases involving COVID-19, an "inaccurate diagnosis ... would be subject to recoupment and/or other potential civil or criminal charges," according the Centers for Medicare & Medicaid Services.
The CMS spokesperson explained that Section 3710 of the CARES Act increases payments for coronavirus-related cases by 20 percent during "the COVID-19 Public Health Emergency period" as one way to "protect the health and safety of our nation's patients and providers in the wake of the COVID-19 outbreak."
A recent report issued by the American Hospital Association highlights the economic toll on hospitals and health systems during this crisis. The report estimated an impact of more than $200 billion in losses over four months, spanning from March 1, 2020, through June 30, 2020. Rick Pollack, AHA president and CEO, explained in a May 5, 2020, press release that "the fight against this virus has created the greatest financial crisis in history for hospitals and health systems."
The 20 percent add-on to payments, as the CMS spokesperson explained, is part of an effort to help lessen the blow during this public-health emergency. But the idea that reports might be manipulated to pad opportunities for these increased payments goes too far. That would be both unethical and illegal, the spokesperson explained:
Medicare providers are required to accurately bill for services provided based on a beneficiary's diagnosis. If a beneficiary is diagnosed with COVID-19 during the course of their treatment, then the medical records should support the services billed. Accurate billing of care and all related treatments by providers are part of Medicare's standard policies. Claims with inaccurate diagnosis or DRG [diagnosis-related group] would be subject to recoupment and/or other potential civil or criminal charges for false claims."
When it comes to the accusation that COVID-19 deaths are being overcounted, many health experts maintain that the numbers are, in fact, too low.
The Washington Post reported that lack of pre-death testing of those who've died at home or in overburdened nursing homes, and inconsistent post-mortem testing by medical examiners, need to be taken into account. Here's what one expert told the Post:
"You can't rely on just the laboratory-confirmed cases," said Marc-Alain Widdowson, an epidemiologist who left the CDC last year and now serves as director of the Institute of Tropical Medicine Antwerp in Belgium, as reported by the Washington Post. "You're never going to apply the test on everybody who is ill and everybody who dies. So without doubt -- it's a truism -- the number of deaths are underestimated globally."
When Dr. Anthony Fauci testified before the U.S. Senate on May 12, 2020, he pointed to cases of people in New York City who died in their homes, without ever making it to a hospital, saying the coronavirus death toll is "almost certainly" higher.
Other fact-checkers, including PolitiFact and Snopes, have explored claims about COVID-19 financials and the death rates. USA Today published on April 27, 2020, a deep dive into what's transpired. And Forbes outlined the evolution of conspiracies about death toll numbers in a May 10, 2020, article titled, "Death Toll Conspiracy: Why Conservative Media -- And Soon, Possibly Trump -- Are Doubting Coronavirus Mortality Figures."