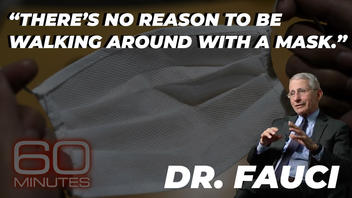 Did Dr. Anthony Fauci say "There's no reason to be walking around with a mask?" Yes, but he said it in early March 2020, and much had changed by May. Federal health experts, including Dr. Fauci began recommending that Americans wear a mask in public on April 3, 2020.
The video of Fauci's March 8, 2020, CBS interview was posted on YouTube on May 6, 2020 titled "Dr. Anthony Fauci: "There's no reason to be walking around with a mask." | 60 Minutes Interview" (archived here) which opened:
Infectious disease expert Dr. Anthony Fauci tells 60 Minutes: "There's no reason to be walking around with a mask." 60 Minutes on March 8, 2020
Click below to watch the video on YouTube:
This is an outdated interview and the recommendations of the CDC and Dr. Fauci have changed since it aired.
The YouTube video of the interview was posted on May 6, 2020, and has had more than 1.5 million views, weeks into the COVID-19 outbreak.
The footage is from an episode of "60 Minutes" that aired on March 8, 2020, with an interview by CBS News chief medical correspondent Dr. Jonathan LaPook with Fauci, director of the National Institute of Allergy and Infectious Diseases.
In early March, the Centers for Disease Control and Prevention was noting that because masks were in short supply, it recommended that masks were only for medical professionals and health care workers, a sentiment echoed by Fauci.
Here is a transcript of their conversation:

LaPook: There's a lot of confusion among people and misinformation surrounding face masks, can you discuss that?

Fauci: The masks are important for someone who's infected to prevent them from infecting someone else. Now, when you see people and look at the films in China and South Korea whatever, everybody's wearing a mask. Right now in the United States people should not be walking around with masks.

LaPook: You're sure of it? Because people are listening really closely to this.

Fauci: Right now, people should not be worried. There's no reason to be walking around with a mask. When you're in the middle of an outbreak, wearing a mask might make people feel a little bit better and it might even block a droplet but it's not providing the perfect protection that people think that it is. And often there are unintended consequences. People keep fiddling with the mask and they keep touching their face.

LaPook: And can you get some schmutz sort of staying inside there?

Fauci: Of course, but when you think mask you should think of health care providers needing them and people who are ill. The people who when you look at the films of foreign countries and you see 85% of the people wearing masks that's fine, that's fine. I'm not against it if you want to do it that's fine.

LaPook: But it can lead to a shortage of masks?

Fauci: Exactly. That's the point. It could lead to a shortage of masks for the people who really need it.
The official "60 Minutes" YouTube page has been updated to note that since the interview aired, recommendations have changed:
In March, Fauci told 60 Minutes that masks should largely be reserved for healthcare providers. In April, the recommendations were broadened to include simple masks for the general public."
Wearing face masks has become a controversial topic but as of May 27, 2020, the CDC recommends that Americans wear a cloth face-covering amid the coronavirus outbreak while in public, which you can read here.
Cover your mouth and nose with a cloth face cover when around others
• You could spread COVID-19 to others even if you do not feel sick.
• Everyone should wear a cloth face cover when they have to go out in public, for example to the grocery store or to pick up other necessities.
o Cloth face coverings should not be placed on young children under age 2, anyone who has trouble breathing, or is unconscious, incapacitated or otherwise unable to remove the mask without assistance.
• The cloth face cover is meant to protect other people in case you are infected.
• Do NOT use a facemask meant for a healthcare worker.
• Continue to keep about 6 feet between yourself and others. The cloth face cover is not a substitute for social distancing.

Fauci's stance on wearing a mask has evolved since early March as now more than 100,000 Americans have died of COVID-19.
On May 27, 2020 he told CNN why he was wearing a mask. You can see the video here.
"I want to protect myself and protect others, and also because I want to make it be a symbol for people to see that that's the kind of thing you should be doing," Fauci, the nation's top infectious disease expert and a member of the White House's coronavirus task force, told CNN's Jim Sciutto on "Newsroom."

Fauci said he believes that while wearing a mask is not "100% effective," it is a valuable safeguard and shows "respect for another person."