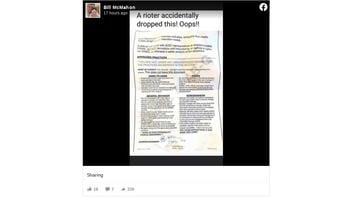 Did someone protesting the death of George Floyd accidentally drop pages from a riot manual? No, that's not true: The image shared on social media that purportedly gives instructions for carrying out a riot is one page used in a 2015 hoax and is not related to the protests that followed the death of George Floyd that is blamed on a Minneapolis police officer. The document is used to support the claim that the protests are being carefully orchestrated by a large organization.
The claim appeared in social media posts, including a meme (archived here) posted on May 31, 2020, with the title "A rioter acccidentally dropped this! Oops!!" The meme then opened:
easy identification of enemies and allies, sympathy from media outlets (emphasis on television media).

A debrief will occur with AOEC representatives at actpoint GAMMA PRIME. DO NOT demobilize until instructed by an agitorg or higher via 328bg, as reiterated in earlier portions of this document.
This is what the post looked like on Facebook at the time of writing:
(Source: Facebook screenshot taken on Mon Jun 1 03:56:22 2020 UTC)
The meme image has been extracted from a longer document that emerged in 2015 after the protests in Baltimore, Maryland, in the wake of the death of Freddie Gray. It was used then in an attempt to connect a political action committee created by Jonathan Soros, the son of billionaire activist George Soros, with the 2015 violence. That longer version features the logo of that PAC, "Friends of Democracy." Check page 13 to see the image in the meme:

Note on page one that it is dated April 18, 2015. There is no support for the claim that is real or connected to the committee, but we can conclude that it has no connection to the protests in the wake of George Floyd's death.
Other versions included eight pages and claimed it related to the May 2020 protests:
BREAKING; ANTIFA manual that was accidentally dropped at a riot in Oregon. 8 pages. These riots are PLANNED. Brad Banhagel Doug Taylor Dutch Von Erich Jamie Reasor

Posted by Thomas Graham on Saturday, May 30, 2020