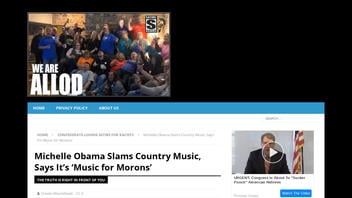 Did former First Lady Michelle Obama really slam the country music industry, saying the the the genre was "for morons?" No, this is not true. She never made such a statement, and the story was published by a liberal satire website that tries to mislead Trump supporters and Republicans into sharing made-up stories that are clearly marked as satire when you actually click them. Articles from the site are frequently copied by foreign-run fake news websites.
The people liking and sharing these stories are enriching foreign website operators or a liberal from Maine via the ad revenue generated with the content, which is probably not what they expected or wanted.
The claim appeared in an article (archived here) published by by America's Last Line Of Defense, or We Are ALLOD, on April 15, 2020, titled "Michelle Obama Slams Country Music, Says It's 'Music for Morons.'" The story read, in part:
Michelle Obama and her husband Barack are music fans. They love it. Except for country music, apparently drives them around the bend. They were recently interviewed and asked what concerts they would see after the crisis was over.

They both said the obvious. Jay-Z. Beyoncé. Maybe one of The Who's 427 farewell tours. When the interviewer, Joe Barron asked if they'd take in a few country shows, seeing as how Mr. Barron is a huge country music fan, Barack Obama said: "not really a fan."

Michelle Obama snorted and said, "not over my dead body."

When the shocked interviewer asked why, she went into a long diatribe of how much she disliked the true American form of music, much of it shrouded in patriotic themes and Americana.
Users on social media only saw this title, description and thumbnail:
"There has never been a more intellectually devoid art form, ever."
This is, of course, all nonsense. In fact, in November 2011, the then-first lady hosted a country music celebration at the White House. Here is part of a story from the Huffington Post about the event:
After bravely trying her hand at NASCAR (with only partial success), Michelle Obama and her husband decided to go full-on country and throw a country music fest in the White House.

We know, we couldn't believe it either.

Unfortunately there were no ten-gallon hats involved, but the First Lady wore some brights to signal her partying mood (perhaps after she was booed in blue?).

For the daytime activities, which included a "History of Country Music: From Barn Dances to Pop Charts" workshop with Kris Kristofferson, Darius Rucker and Lyle Lovett, FLOTUS popped in a bright red and pink three quarter-sleeve dress as she addressed the group of kids.

"We've invited you here because I want to make sure that the White House lives up to the name 'The People's House,'" the first lady told the children, "That's what everybody calls it, what we call it. And I want to be sure that it's not just a place for senators and diplomats and CEOs who have a chance to come here, but it's a place for all Americans, especially young people."

"The People's House" -- that's a new one. But the Obamas proved it by having the kids sit right in the State Dining Room, with the fancy chairs and crystal chandeliers.

Of course for such accommodations, Michelle got a bit more dolled up later that night. For the evening's concert, Mrs. O swept her hair up and picked a pink silk pantsuit, watching the concert from the front row with the president.
The fake story was pushed by a site that comes with a clear satire disclaimer at the bottom of each article:
sat·ire ~ˈsaˌtī(ə)r
noun
the use of humor, irony, exaggeration, OR ridicule to expose and criticize people's stupidity or vices, particularly in the context of contemporary politics and other topical issues.
If you disagree with the definition of satire or have decided it is synonymous with "comedy," you should really just move along.
The owner and main writer of the site is self-professed liberal troll Christopher Blair, a man from Maine who has made it his full-time job to troll gullible conservatives and Trump supporters into liking and sharing his articles. He runs several other websites, including wearethellod.com, bustatroll.org or bebest.website. Sometimes, he is also known under his nickname "Busta Troll". A second man working on the sites is John Prager as revealed in this earlier story that Lead Stories wrote.
Articles from Blair's sites frequently get copied by "real" fake news sites that often omit the satire disclaimer and any other hints the stories are fake. Blair has tried to get these sites shut down in the past, but new ones keep cropping up.
Blair and his operation were profiled by the Washington Post on November 17, 2018 by Eli Saslow:
November 17 The only light in the house came from the glow of three computer monitors, and Christopher Blair, 46, sat down at a keyboard and started to type. His wife had left for work and his children were on their way to school, but waiting online was his other community, an unreality where nothing was exactly as it seemed.
If you are interested in learning more about Blair and the history of his sites, here is something to get you started:
STORY UPDATED: check for updates below. Yesterday Eli Saslow at the Washington Post wrote a fantastic article about Christopher Blair, a man from Maine who has been trolling conservatives and Trump supporters online for years and occasionally even made a living out of it.
If you see one of his stories on a site that does not contain a satire disclaimer, assume it is fake news. If you do see the satire disclaimer, it is, of course, also fake news.
NewsGuard, a company that uses trained journalists to rank the reliability of websites, describes wearethellod.com as:
One in a network of sites that publish false stories and hoaxes that are often mistaken for real news, run by hoax perpetrator Christopher Blair.
According to NewsGuard, the site does not maintain basic standards of accuracy and accountability. Read their full assessment here.