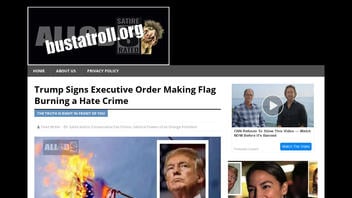 Did President Donald Trump sign an executive order making flag-burning a hate crime? No, he did not. The story about the presidential order originated as satire on a website that publishes fake stories designed to trick and embarrass conservatives who believe and share them. There was no such order signing.
The spoof originated as an article (archived here) where it was published by BustaTroll.org on Aug. 22, 2019, under the title "Trump Signs Executive Order Making Flag Burning A Hate Crime." It opened:
Burning the flag of the USA is protected free speech. It's legal. The issue has been heard by the Supreme Court of the United States and has been settled. That's it. We have to accept it no matter how distasteful. President Trump has also made his peace with this even though he hates it with every fiber of his being. But Trump is a thinker.
The satirical story goes on to say that a fictional new executive order gets around the Supreme Court's decision by creating a new classification of crime for flag-burning, the more serious "hate crime" designation. But that did not happen.
This is what a May 18, 2020, Facebook post of the satirical article looked like:
Burning the American flag is an American right, the Supreme Court has ruled. This is how the ACLU explained it:
Our democracy is strong because we tolerate all peaceful forms of expression, no matter how uncomfortable they make us feel or how much we disagree. The U.S. Supreme Court has affirmed and reaffirmed that the right to desecrate the flag is included in the Constitution's protection of speech.

Flag burning and desecration is offensive precisely because it is political. Experience shows that the way to fight political expression with which one disagrees is not to outlaw it, as Congress has repeatedly sought to do, but to express disapproval.
The site is part of the "America's Last Line of Defense," or ALLOD, network of satire websites run by self-professed liberal troll Christopher Blair from Maine along with a loose confederation of friends and allies. Blair has been in a feud with fact checking website Snopes for some time now and has also criticized other fact-checkers in the past who labeled his work "fake news" instead of satire. In reaction to this he has recently rebranded all his active websites and Facebook pages so they carry extremely visible disclaimers everywhere.
Every site in the network has an 'about' page that reads (in part):
About Satire
Before you complain and decide satire is synonymous with "comedy:"
sat·ire
ˈsaˌtī(ə)r
noun
The use of humor, irony, exaggeration, or ridicule to expose and criticize people's stupidity or vices, particularly in the context of contemporary politics and other topical issues.
Everything on this website is fiction. It is not a lie and it is not fake news because it is not real. If you believe that it is real, you should have your head examined. Any similarities between this site's pure fantasy and actual people, places, and events are purely coincidental, and all images should be considered altered and satirical. See above if you're still having an issue with that satire thing.
Articles from Blair's sites frequently get copied by "real" fake news sites who often omit the satire disclaimer and any other hints the stories are fake. Blair has tried to get these sites shut down in the past but new ones keep cropping up.
One of the most persistent networks of such sites is run by a man from Pakistan named Kashif Shahzad Khokhar (aka "DashiKashi") who has spammed hundreds of such stolen stories into conservative and right-wing Facebook pages in order to profit from the ad revenue.
When fact checkers point this out to the people liking and sharing these copycat stories some of them get mad at the fact checkers instead of directing their anger at the foreign spammers or the liberal satire writers. Others send a polite "thank you" note, which is much appreciated.
NewsGuard, a company that uses trained journalist to rank the reliability of websites, describes bustatroll.org as:
One in a network of sites that publish false stories and hoaxes that are often mistaken for real news, run by hoax perpetrator Christopher Blair.
According to NewsGuard the site does not maintain basic standards of accuracy and accountability. Read their full assessment here.