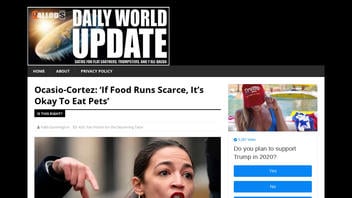 Did U.S. Rep. Alexandria Ocasio-Cortez say, "If food runs scarce, it's okay to eat pets?" No, that's not true. This claim about the liberal New York congresswoman is in a satirical article published by a known network of satire writers who seek to rile up conservatives. Their articles are often stolen and republished without the satire labels by other websites.
The story originated in an article (archived here) published by Daily World Update under the title "Ocasio-Cortez: 'If Food Runs Scarce, It's Okay To Eat Pets.'" The article opened:
A lot of experts among our duly elected officials have seen fit to offer their own out-of-the-box ideas to try to help our President Trump cope with America's current delicate situation. Senator Lindsey Graham offered advice on spraying down furniture with Listerine. Tom Cotton recommended sleeping on your stomach to allow any germs only one port of entry. But now, Diminutive Damsel of Dramedy, Representirive Alexandria Ocasio-Cortez has piped up out of her warble-hole that should it become difficult to obtain food in the coming days of this ongoing crisis, Americans may do well to, unfortunately, come to make dinner out of their pets.
This is what the post looked like on social media:
There is no record of Rep. Ocasio-Cortez ever recommending eating pets if there is a food shortage.
The site DailyWorldUpdate.us is part of the "America's Last Line of Defense" network of satire websites run by self-professed liberal troll Christopher Blair from Maine, along with a loose confederation of friends and allies. He runs several websites and Facebook pages with visible satire disclaimers everywhere. The sites mostly publish made-up stories with headlines specifically created to trigger Republicans, conservatives and evangelical Christians into angrily sharing or commenting on the story on Facebook without actually reading the full article, exposing them to mockery and ridicule by fans of the sites and pages.
Articles from Blair's sites frequently get copied by "real" fake news sites -- like this one that picked up this AOC story on May 9, 2020 -- which omit the satire disclaimer and other hints that the stories are fake.
This particular story includes an image of a bagel with what looks like meat on top. The caption reads: "Don't knock a Pomeranian bagel until you've had a Pomeranian bagel."
The bogus story also includes a made-up explanation from AOC, which the article said came during "a donut party at the local Krispy Kreme which she forced to open just for her and her 22 friends." Here's the fabricated statement she made at the non-existent party:
Look, I don't know why, if we're closing everything and being all scared and piling up food and toilet paper, we should have to worry about some dumb dogs and cats too. Like, last time I checked, they didn't do anything except sit around. And if food does start running short, I mean, sorry Charlie, right? Gawd these glazed are to die for.
Every site in the "America's Last Line of Defense" network has an about page that reads (in part):
About Satire
Before you complain and decide satire is synonymous with "comedy":

sat·ire
ˈsaˌtī(ə)r
noun
The use of humor, irony, exaggeration, or ridicule to expose and criticize people's stupidity or vices, particularly in the context of contemporary politics and other topical issues.

Everything on this website is fiction. It is not a lie and it is not fake news because it is not real. If you believe that it is real, you should have your head examined. Any similarities between this site's pure fantasy and actual people, places, and events are purely coincidental and all images should be considered altered and satirical. See above if you're still having an issue with that satire thing.
NewsGuard, a company that uses trained journalist to rank the reliability of websites, describes dailyworldupdate.us as:
A news site that publishes false stories and hoaxes that are often mistaken for real news. The site is part of a network run by hoax perpetrator Christopher Blair.
According to NewsGuard the site does not maintain basic standards of accuracy and accountability. Read their full assessment here.