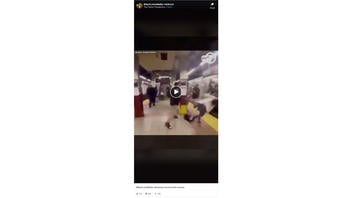 Was a Brooklyn, New York, subway attack on a white woman by a black man related to current Black Lives Matter protests? No, it was not. The attack took place on Oct. 23, 2019, well before the wave of BLM protests began following the death of George Floyd. Moreover, Transit Authority police identified the attacker as a frequent offender caught on and off trains for various crimes, with 18 arrests in 2017 alone, and with no known connection to Black Lives Matter.
The claim that BLM was related to the assault appeared with a video (archived here) posted by The Patrick Perspective Podcast on Facebook on June 7, 2020, under the title "BlackLivesMatter violence -- #BlackLivesMatter attacking innocent white woman."
The 10-second video, apparently shot by a bystander, opens as a man, later identified by police as Isaiah Thompson, 28, lunges towards and begins pushing first one black youth and then another. He shouts, "What? What?" and then pushes a white woman hard enough that she loses her footing and falls head first against the side of a stationary train car.
This is what the post looked like on Facebook at the time of writing:
(Source: Facebook screenshot taken on Thu Jun 18 17:00:23 2020 UTC)
The Patrick Perspective podcast Facebook page posted the subway video.
The attack on the Coney Island-bound platform of the DeKalb Avenue station in downtown Brooklyn had no connection to Black Lives Matter. The man police identified as the attacker, Isaiah Thompson, was a repeat "transit offender" who liked train "surfing" and pulling emergency brakes to inconvenience passengers, according to police remarks on WABC News.
Following the October 2019 attack on the woman, Thompson was charged with assault, felonious reckless endangerment, menacing and criminal trespassing. CBS New York, calling Thompson "an alleged subway menace," reported that he'd been arrested at least 18 times in 2017. During that time, surveillance video also showed Thompson recklessly riding outside a moving train by hanging onto the back ,and slashing a man inside a metro train station, the broadcast reported.
WABC first reported on Thompson's attacks in May 2019 when he was charged with at least three of the 37 instances in which the emergency brakes on the subway were pulled: