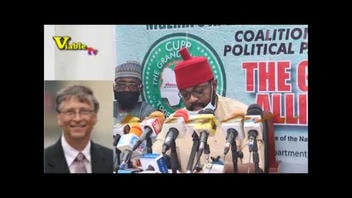 Did Bill Gates give a $10 billion bribe to the Nigerian government to impose forced vaccinations on its citizens? No, that's not true. There is no evidence of such a huge payment offered beyond an unsupported accusation by a political opposition leader. While the claim implies the forced vaccination would be for COVID-19, no such vaccine was available at the time of writing. The Bill and Melinda Gates Foundation did fund a grant of $685,714 in Nigeria during 2020 and it would not be unexpected for more money to be donated, but a grant is not the same as a bribe. And there is no expectation that Gates would send nearly 10 percent of his net wealth to one African country.
The claim appeared as a caption to a video posted by Viable Tv on Youtube on June 23, 2020. It reads, "EXPOSED!!! Bill Gates Offered $10 billion Bribe For Forced Vaccination In Africa" (archived here). The video description reads:
The opposition political parties rejected the "foreign-sponsored Bill" mandating the compulsory vaccination of all Nigerians even when the vaccines have not been discovered and demanded the Speaker be impeached if he forces the bill on members. The development comes a month after Robert F. Kennedy Jr., the nephew of former American President John F. Kennedy, in a lengthy piece exposed Bill Gates agenda in India and his "obsession with vaccines"
Click below to watch the video on YouTube:
The video began with the words of Coalition of United Political Parties (CUPP) spokesman Ikenga Ugochinyere saying he objects to having been arrested and stands by his charge that Nigeria's House of Representatives Speaker Femi Gbajabiamila took a bribe to push through the "Control of Infectious Diseases Bill."
The two had been trading accusations of misconduct, the chief allegation being that the speaker was bribed with $10 million -- not $10 billion -- by Bill Gates to "speed approval of the Infectious Diseases Bill." The legislation does not include a provison for forcibly vaccinating Nigerians.
The speaker called for Ugochinyere's arrest. Subsequently, federal judge, Othman Musa, ruled that Ugochinyere must not be arrested and ordered security agents not to obey the resolution of the House to arrest him. But according to Sahara Reports the Nigeria Police Force arrested him anyway and Gbajabiamila set up a 12-man committee to look into allegations that "himself and some members of the House collected a $10 million bribe from a foreign sponsor" Gbajabiamila made the announcement during a plenary session on May 4, 2020.
According to Gates Foundation records, a grant of $685,714 has been awarded in 2020 to Nigeria "to strengthen public health emergency preparedness and response in Nigeria in the context of the novel coronavirus."
The caption under the video is misleading. Ugochinyere is seen talking about his ordeal during his arrest and about abuses of power, not about Gates seeking vaccination powers. He says:
Following my abduction, I was shown a petition authored and engineered by Gbajabiamila and the clerk of the House of Representatives forwarding a resolution of the House where the police were directed to arrest me following comments I made about the shady attempt to pass the Control of Infectious Diseases Bill, comments that I strongly stand on for, which even in international and local fora we have been commended for standing against the plot of using of our legislature to pursue sinister objectives.
In the video, Ugochinyere says the speaker cannot form a committee to look into himself. Further, he objects to the powers that the health bill will give to police to round up sick people.
Reacting, a proponent of the bill, House member Benjamin Kalu, told THISDAYLIVE.com:
"The Bill is still being baked and Nigerians should make their input through their representatives or during public hearing and thereafter be patient to see the final copy which I'm sure will take care of all our concerns."
Nowhere in these proceedings were vaccinations mentioned. In fact, objections inside Nigeria had everything to do with the wording of the bill and nothing to do with money from Gates. The Nigerian Control of Infectious Diseases Bill is described as "draconian and anti-democratic," according to a commentary aired on May 19 as part of ARISE NEWS. In the broadcast, Liborous Oshoma, a Nigerian attorney says the bill is:
unfit for a democratic environment. Many sections are anti-constitution. They empower police to arrest without warrants a person who has infectious disease."
The bill extends arrest powers in cases where a citizen has not committed a crime but is only sick, he says. Also, he objects because much of the wording in the bill was
"plagiarized from Singapore," and the word "Nigeria" replaced the name "Singapore" on many pages where the rest is word for word the same as a law in Singapore. Oshoma says, "It's a lazy piece of work."
The Nigerian bribe claim was debunked by InfoTagion in an article titled Factcheck: Did Bill Gates bribe Nigeria to test vaccines on children? published on June 3, 2020. It reads:
This is false, whilst the Gates Foundation does fund vaccine research there is no record of a payment of this amount. The Nigerian House of Representatives have been considering the Infectious Diseases Control Bill, which this article makes reference to. The Bill has been controversial as some perceive that it gives too much power to the Nigerian Centre for Disease Control in the management of infectious diseases, with some concerned that it could infringe on human rights with the power to issue fines to citizens for noncompliance."
There have been many iterations of the Bill-Gates-forced-vaccine rumor -- sometimes the fictional victims are children, sometimes women, sometimes a bribe is involved (recently it was $50 million to the WHO) or it's alleged that he "admits to" harming 700,000 people.
Ten countries in Africa are currently recipients of Gates philanthropy: Ethopia, Nigeria, South Africa, Burkina Faso, the Democratic Republic of Congo, Ghana, Kenya, Senegal, Tanzania, and Zambia. The Foundation pledged $5 billion over five years to Africa starting in 2016.
The list of false conspiracy claims involving Bill Gates is long. Here are several recent debunks published by Lead Stories:
Fact Check: Bill Gates Did NOT Bribe WHO With $50 Million To Declare COVID-19 A Pandemic
Fact Check: Bill Gates Won't Make $200 billion from vaccines
Fact Check: Bill Gates Did Not Say 700,000 People Will Be Killed By Coronavirus Vaccine
Fact Check: Context of Bill Gates TED Talk Not About Lowering Population With Vaccines