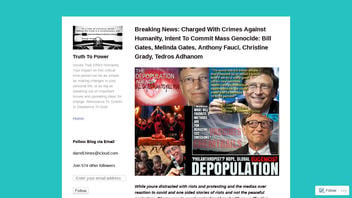 Are Bill and Melinda Gates, Dr. Anthony Fauci, bioethicist Christine Grady, World Health Organization Director Tedros Adhanom Ghebreyesus and several hundred others facing prosecution on charges of crimes against humanity? No, that's not true: There is no such criminal complaint. It is all made up.
The false claim originated in an article (archived here) by Darrell Hines titled Truth to Power on June 3, 2020. He labeled the article Agenda 21, Globalist Luciferian Elite Cabal.
The article is headlined:
Breaking News: Charged With Crimes Against Humanity, Intent To Commit Mass Genocide: Bill Gates, Melinda Gates, Anthony Fauci, Christine Grady, Tedros Adhanom
The article looked like this at the time of writing:
Breaking News: Charged With Crimes Against Humanity, Intent To Commit Mass Genocide: Bill Gates, Melinda Gates, Anthony Fauci, Christine Grady, Tedros Adhanom - Truth To Power https://t.co/9bOtA6JhRS What do we make of this? @99freemind @latimeralder

-- #internetBillofRights #Standup4Brexit (@jenninemorgan) June 3, 2020
The article says the Human Rights Tribunal International, an arm of the United Nations, will prosecute those prominent individuals along with all 10,600 personnel of the Centers for Disease Control and Prevention, the 1,489-person Gates Foundation and 50 governors of the National Governors' Association for heinous crimes. That is a total of 12,094 people.
The article contains an image of a case affidavit with the words "Human Rights Defenders" around the image of a wolf. The real organization does not use a wolf in its seal or any other official document. In fact, its logo is "fidh," which is the French acronym for the organization, Federation Internationale des Ligues des Droits de l'Homme.

Hines claims that Gates and the rest will go before the Human Rights Tribunal International. But the U.S. government cannot just try people it doesn't like at the HRTI, even if Fauci, Gates, et al., had been charged with anything -- which they are not. That's not how it works.
Persons are tried for crimes against humanity at the International Criminal Court in The Hague, Netherlands. Domestically, if the U.S. attorney general sought to prosecute someone, it would be in the federal criminal court system.
Trials before the Human Rights Tribunal are meant to punish brutal governments and military leaders in cases chosen by the members of the U.N., not by one single government. That way, a single government cannot try someone it sees as a political enemy. Could a case be made against all 12,144 people listed in Hines' article before the decade is over? That seems unlikely.
Next, the term "crimes against humanity" stipulates 11 very specific offenses. They also are termed "crimes that shock the conscience of mankind."
According to the United Nations, crime against humanity means any of the following acts when committed as part of a widespread or systematic attack directed against any civilian population, with knowledge of the attack:
Murder;
Extermination;
Enslavement;
Deportation or forcible transfer of population;
Imprisonment or other severe deprivation of physical liberty in violation of fundamental rules of international law;
Torture;
Rape, sexual slavery, enforced prostitution, forced pregnancy, enforced sterilization, or any other form of sexual violence of comparable gravity;
Persecution against any identifiable group or collectivity on political, racial, national, ethnic, cultural, religious, gender as defined in paragraph 3, or other grounds that are universally recognized as impermissible under international law, in connection with any act referred to in this paragraph or any crime within the jurisdiction of the Court;
Enforced disappearance of persons;
The crime of apartheid;
Other inhumane acts of a similar character intentionally causing great suffering, or serious injury to body or to mental or physical health.
Have the governors of all 50 states committed murder, torture, or apartheid? Clearly not. Has Christine Grady, a nurse and bioethicist on Hines' list, committed forced deportation of the population? Forced sterilization? If so, where's the proof? Hines does not produce any evidence that crimes have been committed, evidence such as investigations by law enforcement, arrests, grand jury indictments or photographs.
in addition, the case number of the alleged complaint against Gates, et al., is made up. There is no case #20200427-00008 before the United Nations Human Rights Tribunal International.
Meanwhile, another group also claiming to be a human rights tribunal is circulating notice of a false court date and a fake docket number and hearing involving the same accused individuals. According to its website, those people will all appear in a teleconference on this date:
"79th day in the year of YHWH 6022 (Translation 5th Day of June 2020) Friday at 1:00 PM UTC-6."
On the 93rd day of the year (June 19), it is claimed, the Rothschild family will appear, referring to the powerful family dynasty whose wealth was built over centuries on banking and other businesses. However, no charges, such as high crimes, are specified. The case numbers, are made up, as in the other bogus claim.
This is the group's explanation of its purpose:
HISTORY OF THE HUMAN RIGHTS TRIBUNAL: THE PRESENT HUMAN RIGHTS TRIBUNAL STARTED WITHIN THE REIGN OF THE HEAVENS BEFORE IT WAS PLACED IN TRUST: RATIFICATION THEN AN INTERNATIONAL CRIMINAL COURT WAS CREATED BY ACT BY THE Government of The United States of America, INTERNATIONAL CRIMINAL COURT THE INTERNATIONAL CRIMINAL COURT WAS CONVERTED INTO THE SUPREME..
This is the real United Nations Human Rights council. Its documents use regular dates and designations for years.