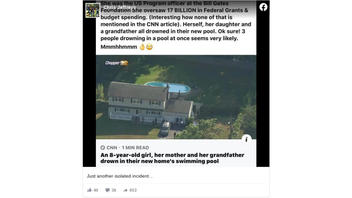 Did Nisha Patel, who accidentally drowned with her father-in-law and daughter in their New Jersey home's backyard pool, work as the "US Program Officer at the Bill Gates Foundation?" No, that's not true. The Nisha Patel who once worked for the Bill & Melinda Gates Foundation is "alive and well," she wrote in an email to Lead Stories. It is another family that mourns the horrific loss on June 22, 2020, of three loved ones, including a 33-year-old wife and mother also named Nisha Patel in East Brunswick, New Jersey. It insinuated that Bill Gates may have played a role in the deaths.
The claim appeared in posts like this one on Facebook (archived here) shared on June 25, 2020, with the title "just another isolated incident..." It included a screenshot of a CNN article about the drownings, with this text added:
She was the US Program officer at the Bill Gates Foundation. She oversaw 17 BILLION in Federal Grants & budget spending. (Interesting how none of that is mentioned in the CNN article). Herself, her daughter and a grandfather all drowned in their new pool. Ok sure! 3 people drowning in a pool at once seems very likely. Mmmhhmmm
This is what the post looked like on Facebook at the time of writing:
While some commenters on the thread raised doubts about the post, others stoked conspiracy theories and bought into the idea that Gates might have been involved.
"What did she know? Did she know vaccines are deadly? Do vaccines have microchips in them? Do children vaccines kill and give kids autism? I hope she had a kill switch somewhere," wrote one person. "Highly unlikely!! They were taken out...," said another. "The kabal is drowning some more evidence, as this suicide thing of theirs are getting too obvious now..," said a third. A fourth asked, "Killary Clintons friends?" And a fifth person simply wrote: "Satan struck again."
In the comment thread, a link was shared to an outdated bio for Nisha G. Patel, taken from when she served as the executive director of the US Partnership on Mobility from Poverty at the Urban Institute, which was supported by the Bill & Melinda Gates Foundation. From 2008-2011, she worked as a program officer in the U.S. Program at the Bill & Melinda Gates Foundation. Today, Patel works as an independent consultant and has a part-time affiliation with the Social Policy Instiitute, where she serves as a senior fellow. Her current bio describes her as "a national expert on social and economic mobility and philanthropy in the United States," who "has more than two decades of cross-sector experience leading and implementing initiatives to increase economic opportunities for low-income families."
She is 45, lives in Washington DC and got into this sort of work when the Nisha Patel who passed away on June 22 was only an adolescent.
This Nisha Patel, the one rumored to have died, had this to say in an email to Lead Stories:
Please let your readers and the world know that as of June 26, 2020, I am alive and well. There are multiple people named "Nisha Patel" in the United States, and I am just one of them, which is why I often use my middle initial "G." across public platforms.

Many of the inquiries I have gotten across social media this week are bizarre and disturbing. Based on media reports, a person who shared my same first and last names appears to have died tragically in New Jersey. I do not know the family, but my heart goes out to them.
In a pinned tweet, only available to followers, she thanked people for their concerns, assured them that she was fine and extended her condolences to the family that suffered the loss of her namesake. She included a quote from Mark Twain that reads: "The reports of my death are greatly exaggerated."