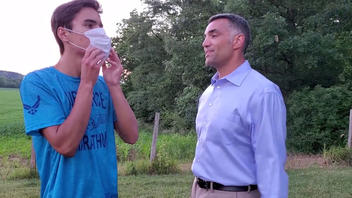 Did a test using a gas monitor show that face masks cause oxygen levels to drop into the "danger zone?" No, that's not true: The demonstration conducted by Ohio State Rep. Nino Vitale is flawed and misleading, according to a senior engineer with the company that makes the gas monitor.
The claim appeared as a video on YouTube (archived here) posted on June 25, 2020, titled "!! DANGER !!Test Shows Oxygen Levels Drop into the DANGER ZONE FIVE SECONDS After Putting on a Mask." The video description opened:
In a recent test, oxygen levels drop into the danger zone FIVE SECONDS after putting on a mask. Using the GX-2009 gas monitor, a test of 3 different masks shows oxygen levels drop below the minimum Safety and Health Administration (OSHA) approved 19.5% safe level in less than five seconds. You can watch the short video which shows 3 school children being tested for oxygen levels while wearing masks. Within 5 seconds, the alarm warned that oxygen had dropped below the safe level required. Breathing in air with low oxygen can cause major health issues. OSHA's Respiratory Protection Standards state, "oxygen levels below 19.5% are an immediate danger to life or health." This is what so-called health experts, government officials and businesses are requiring employees, and soon, school children, to wear.
Click below to watch the video on YouTube:
Rep. Vitale identifies the device he's using as a GX-2009 monitor, which is made by RKI Instruments. It's typically used to measure atmospheric oxygen content. (You can see more about the functioning of that device here.) Vitale puts the monitor under different students' face masks and is alarmed when it registers low levels of oxygen. But that's not surprising: The air we breathe in contains about 21% oxygen and the air we breathe out only has around 16% (and around 4% carbon dioxide). That is the stuff of highschool textbooks.
Does that mean it's unsafe to wear to mask?
No, according to John Villalovos, a senior engineer with RKI, who explained what happened in the video:
Normally, of course, the breath is going out safely through the material of the mask and that person is inhaling fresh air ... But when you stick an obstruction in there, like an instrument of that size, then, of course, you are trapping the exhale breath.
Besides the obstruction of the monitor, Villalovos identified at least two other ways in which Vitale's experiment was flawed. First, the sensors in the device are not so fast as to be able to read someone's breath. More from Villalovos:
The sensors that we use are intended for gas monitoring. They're intended to sample the atmosphere for a number of seconds, let's say anywhere from 30 seconds to a minute or two minutes ... The sensors are not going to be that fast to show the true action and content of air going in and the reduced oxygen going out.
Second, Vitale gives false information about where the sensors are located on the monitor. Toward the end of the video, he holds the device directly in front of his mouth. The fact that the monitor does not go off as he talks, Vitale claims, proves that it is not responsive to person's exhales. He points to sensors on the top of the device, saying they are located on the "top and sides, front and sides."
But that's not true. The sensors are located on the bottom of the device, as clearly seen in this screenshot and training video and on page nine of the manual (Vitale might have confused the buzzer sound openings for sensors):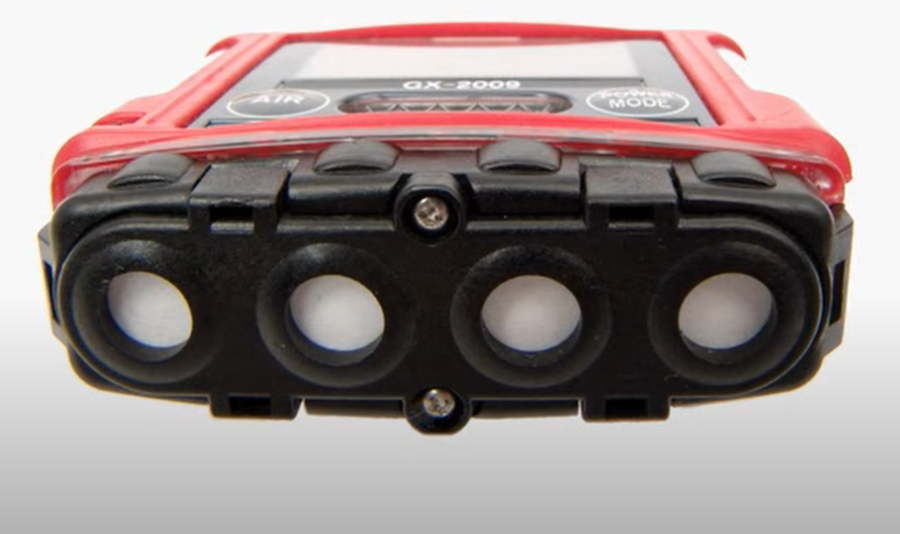 So, in fact, the sensors are pointing away from his mouth, even as Vitale says he is talking "into" the device. He also appears to have his thumb over one or more of the sensors, though it was not immediately clear how that might impact a reading.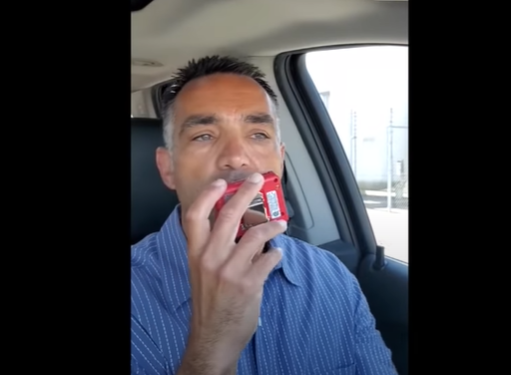 Villalovos told Lead Stories that it's not surprising the monitor didn't sound in an open-air envirornment. The breath has plenty of places to go. But, he said, if Vitale had exhaled directly onto the sensors -- or cupped his hand to focus his breath onto the sensors -- the device would likely have gone off.

Lead Stories reached out to Vitale to comment. We will update this story if he replies.
Rep. Vitale has been on a months-long campaign against face masks as a way to slow the spread of the novel coronavirus. The Hill looked at how the state legislator argued wearing a face mask violated his religious beliefs in an article titled GOP Ohio state lawmaker refuses to wear face mask because faces are the 'likeness of God':
A Republican Ohio state representative cited his religious beliefs to explain why he would not wear a mask as recommended by Gov. Mike DeWine (R) to help limit the spread of the novel coronavirus.

"This is not the entire world," state Rep. Nino Vitale wrote in a lengthy Facebook post on Monday morning. "This is the greatest nation on earth founded on Judeo-Christian Principles."

"One of those principles is that we are all created in the image and likeness of God. That image is seen the most by our face. I will not wear a mask," he continued.
We also reviewed a video making an identical claim with another model of gas monitor. The host placed a hose under his mask as he breathed, triggering an alarm. We concluded this was also false, based on the engineers explanation that exhaled air, which has the depleted oxygen level, is trapped in pockets in the mask.
Lead Stories has previously looked into hypercapnia -- a buildup of carbon dioxide in the bloodstream -- and shown that it does not occur from use of a mask. We also previously dismissed the rumor that OSHA said cloth masks won't work and will reduce oxygen to dangerous levels.
Our findings are consistent with guidance from the Centers for Disease Control and Prevention (CDC), which recommends that people wear cloth masks in public settings to help stop the spread of coronavirus. So far, the United States has reported more than 2 million confirmed coronavirus cases and more than 121,000 deaths, according to data from the World Health Organization.
Read earlier Lead Stories articles about false claims concerning face masks and COVID-19:
Fact Check: Ear Loop Masks Meant To Protect Others From Coronavirus (NOT Yourself)
Fact Check: Meme Claiming Five Reasons Not To Wear A Face Mask Is Misleading
Fact Check: OSHA Did NOT Say Cloth Masks Don't Work And Will Reduce Oxygen To Danger Levels
Fact Check: Video Showing Dr. Anthony Fauci Saying, 'No Reason To Be Walking Around With A Mask' Is From Early March, NOT Recently
Fact Check: It Is NOT Illegal For Businesses To Require Customers To Wear Masks, Masks Are Not A Health Hazard, And COVID-19 Is Not A Plot To Kill Everyone
Fact Check: Hypercapnia Does NOT Occur From Constant Use Of A Mask As Advised During The COVID-19 Outbreak
Fact Check: Card Does NOT Exempt Anyone From Wearing A Mask In Public
Fact Check: Not Wearing Masks For Tuberculosis In The U.S. Does Not Mean Masks Are Not Needed For COVID-19
Fact Check: The CDC DOES Recommend That People Who Are Healthy Wear Facemasks