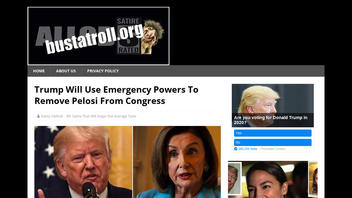 Is President Trump expected to use emergency powers to remove House Speaker Nancy Pelosi from office? No, that's not true: This story was made up by a known network of satire websites. Articles from the site go viral when they are re-posted on social media by people claiming they are true. Articles from these sites also get copied by foreign fake news sites without the satire label.
The claim originated from an article (archived here) where it was published by bustatroll.org on March 25, 2020, under the title "Trump Will Use Emergency Powers To Remove Pelosi From Congress." It opened:
A stimulus bill has gone through, but it was a long process due to the depraved obstruction of Nancy Pelosi and the vile Democrats. Their refusal to pass several bills before this showed their indifference to the plight of the American people. Apparently, they just don't care.
It's no surprise that this article got attention. Speaker Pelosi and President Trump have one of the most publicly spiteful relationships in Washington. Although Trump tweeted in October of 2019 calling for Pelosi to be impeached in response to the formal impeachment inquiriry into the president, it never happened. What's more, it's not possible for a president to remove a member of Congress. Members of Congress may be expelled, but only after a two-thirds vote within the branch of Congress they're in.
The site this article appeared on is part of the "America's Last Line of Defense" network of satire websites run by self-professed liberal troll, Christopher Blair, along with a loose group of friends and allies. He runs several websites and Facebook pages with visible satire disclaimers everywhere. They mostly publish made-up stories with headlines specifically created to trick Republicans, conservatives and evangelical Christians into angrily sharing or commenting on the story on Facebook without actually reading the full article.
Every site in the network has an about page that reads (in part):
About Satire
Before you complain and decide satire is synonymous with "comedy":

sat·ire
ˈsaˌtī(ə)r
noun
The use of humor, irony, exaggeration, or ridicule to expose and criticize people's stupidity or vices, particularly in the context of contemporary politics and other topical issues.

Everything on this website is fiction. It is not a lie and it is not fake news because it is not real. If you believe that it is real, you should have your head examined. Any similarities between this site's pure fantasy and actual people, places, and events are purely coincidental and all images should be considered altered and satirical. See above if you're still having an issue with that satire thing.
Articles from Blair's sites frequently get copied by "real" fake news sites who omit the satire disclaimer and other hints the stories are fake. One of the most persistent networks of such sites is run by a man from Pakistan named Kashif Shahzad Khokhar (aka "DashiKashi") who has spammed hundreds of such stolen stories into conservative and right-wing Facebook pages.
NewsGuard, a company that uses trained journalist to rank the reliability of websites, describes bustatroll.org as:
One in a network of sites that publish false stories and hoaxes that are often mistaken for real news, run by hoax perpetrator Christopher Blair.
According to NewsGuard the site does not maintain basic standards of accuracy and accountability. Read their full assessment here.