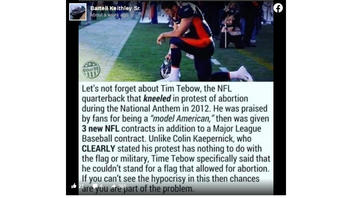 Did Tim Tebow take a knee in 2012 during the playing of the national anthem? No, he did not: There is no record of the former NFL quarterback kneeling on the sideline as the national anthem was playing before a game in 2012 or any other season.
The claim appeared in a meme included in a post (archived here) published on Facebook on June 12, 2020. It opened:
Let's not forget about Tim Tebow, the NFL quarterback that kneeled in protest of abortion during the National Anthem in 2012. He was praised by fans for being a 'model American,' then was given 3 new NFL contracts in addition to a Major League Baseball contract. Unlike Colin Kaepernick, who CLEARLY stated his protest has nothing to do with the flag or military, Time [sic] Tebow specifically said that he couldn't stand for a flag that allowed for abortion. If you can't see the hypocrisy in this then chances are you are part of the problem.

This is what the post looked like on Facebook at the time of writing:

(Source: Facebook screenshot taken on Fri Jun 19 20:06:55 2020 UTC)
The photograph used in the meme showed Tebow taking a knee to pray, not protest, at a time when the anthem was not playing. The photo is taken by Associated Press photographer Julie Jacobson before a Denver Broncos football game against the Chicago Bears in December 2011, according to this description on the AP photo page:
In this Dec. 11, 2011 file photo, Denver Broncos quarterback Tim Tebow prays in the end zone before the start of an NFL football game against the Chicago Bears, in Denver. Peyton Manning is negotiating to join the Broncos, ESPN reported Monday, March 19, 2012. Citing anonymous sources, ESPN said that the four-time MVP has instructed agent Tom Condon to negotiate the details of a deal with Denver. The addition of Manning could well lead to Denver trading Tebow, even though the popular QB energized the Broncos in leading them to the playoffs last season despite some uneven play.
An examination of what is going on around Tebow and in the background shows people milling around on field, which would not happen during the playing of the national anthem.
The meme contrasting Tebow and Colin Kaepernick, claiming hypocrisy on the part of fans, continues to crop up, even though Tebow and those who know him have stated that he's never knelt during a national anthem. The meme appeared with the same wording in November 2019, but with the heading "Where was your outrage then?"
The claim has also been rated false by Check Your Fact and Politifact .
Tebow denied that he ever kneeled during the national anthem. In a 2018 interview with USA Today, he said:
Sometimes people will just try to create something that had zero truth. I never did anything during a national anthem but stand and support my country.

Without mentioning Kaepernick, he said,
I think when people believe in something and they stand for that, I don't knock them for that. Even if I agree with some or disagree with some, I appreciate it when people have convictions and they stand for that."
As of June 2020, Tebow was signed to the minor league Syracuse Mets baseball team.