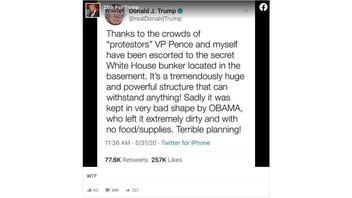 Did President Trump send out a tweet claiming that he and Vice President Pence were escorted to the secret White House bunker, and complaining that former President Obama had left it dirty and unsupplied? No, that's not true: the screenshot of the tweet circulating on social media is fake, Trump did not send the tweet.
An example of the screenshot can be seen in a post (archived here), where it was published by the Facebook page '25th For Trump' on Monday, June 1, 2020. The post was captioned, "WTF," and the text in the fake tweet read:

Thanks to the crowds of "protestors" VP Pence and myself have been escorted to the secret White House bunker located in the basement. It's a tremendously huge and powerful structure that can withstand anything! Sadly it was kept in very bad shape by OBAMA, who left it extremely dirty and with no food/supplies. Terrible planning!
This is what the post looked like on Facebook at the time of writing:
(Source: Facebook screenshot taken on Tue Jun 2 14:24:32 2020 UTC)
The fake tweet bore the timestamp 11:36 AM 5/31/20.
Lead Stories checked President Trump's twitter account and found no mention of the phrase "food/supplies" (archived here). We also checked ProPublica's Politwoops ("Politwoops tracks deleted tweets by public officials, including people currently in office and candidates for office.") to make sure this wasn't a deleted tweet and no results showed up there either (archived here).
We also found no trace of the Trump Twitter archive for "food/supplies."
The Secret Service did briefly move President Trump and his family to an underground bunker because of security concerns as protesters rallied outside the White House on Friday night, May 29, 2020, CNN reported.