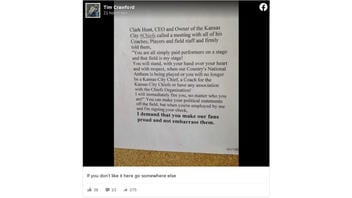 Did Kansas City Chief's boss Clark Hunt threaten to fire players and staff if they do not stand for the national anthem? No, that's not true: This is a made-up statement that has been falsely attributed to the CEO and part-owner of the NFL team and also to other NFL owners in the past.
The claim appeared in a post (archived here) where it was published on Facebook on July 7, 2020. The bulk of it read:
Clark Hunt, CEO and Owner of the Kansas City #Chiefs called a meeting with all of his Coaches, Players, and field staff and firmly told them, "You are all simply paid performers on a stage and that field is my stage! You will stand, with your hand over your heart and with respect, when our Country's National Anthem is being played or you will no longer be a Kansas City Chief, a Coach for the Kansas City Chiefs or have any association with the Chiefs Organization!
This is what the post looked like on Facebook at the time of writing:
(Source: Facebook screenshot taken on Wed Jul 8 18:47:08 2020 UTC)
This is not a new fake statement, nor has it been exclusively attributed to Hunt. In September 2016, the statement -- with the team name changed -- was attributed to the owner of the Dallas Cowboys, Jerry Jones. Snopes wrote a fact check on this claim when it was circulating. A month later, the statement was falsely attributed to Hunt. "It was an internet hoax," Hunt told the Kansas City Star.
Brad Gee, the director of communications for the Kansas City Chiefs, confirmed with Lead Stories that Hunt never made that statement.
In fact, early last month, Hunt called two Chiefs players, Patrick Mahomes and Tyrann Mathieu, to voice his support of their participation in a Black Lives Matter video featuring a number of the league's players.
A day after the NFL players posted the Black Lives Matter video, Roger Goodell, commissioner of the NFL, posted an unprecedented response video, saying:
We the National Football League, admit we were wrong for not listening to NFL players earlier and encourage all to speak out and peacefully protest."
Not only is Hunt supporting his players participation in the Black Lives Matter movement, Goodell is encouraging players to voice their concerns and peacefully protest.