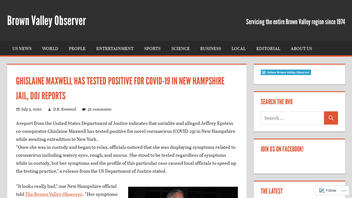 Did the Department of Justice report that Jeffrey Epstein companion Ghislaine Maxwell tested positive for COVID-19 in a New Hampshire jail? No, it did not: The claim that Maxwell, who was arrested by the FBI in Bedford, New Hampshire, on July 2, 2020, tested positive for COVID-19 is the invention of the satire website The Brown Valley Observer. It was copied by others and reposted as real.
The claim appeared in an article (archived here) published by Brown Valley Observer on July 3, 2020, under the title "Ghislaine Maxwell Has Tested Positive for Covid-19 in New Hampshire Jail, DOJ Reports" with the fictitious byline D. R. Everend. It opened:
A report from the United States Department of Justice indicates that socialite and alleged Jeffrey Epstein co-conspirator Ghislaine Maxwell has tested positive for novel coronavirus (COVID-19) in New Hampshire while awaiting extradition to New York.
"Once she was in custody and began to relax, officials noticed that she was displaying symptoms related to coronavirus including watery eyes, cough, and mucus. She stood to be tested regardless of symptoms while in custody, but her symptoms and the profile of this particular case caused local officials to speed up the testing practice," a release from the US Department of Justice stated.
This is what the post looked like on social media at the time of writing:
The story is laid out with a photograph of Maxwell and Epstein hugging and a plausible-sounding quote from an unnamed DOJ official, so readers might easily be fooled and repost the news on social media. But the truth about the BVO -- that everything is made up to satirize news or annoy readers -- is not always immediately obvious to readers. That is because the disclaimer is hidden behind the Menu button and then behind an about page button:
DISCLAIMER:
This is an entertainment website written to satirize news events, politics, and popular faces and ideas, and to provide commentary on social attitudes and trends. While familiar names of celebrities and other media figures as well as familiar agencies and organizations are used, all news stories contained within are fictional in nature. Most of the words and actions attributed to these figures are created entirely by the author, who has tiny, feminine hands, and who was once friend-zoned by his own sister.
The purpose of this site is to entertain. Failing that, we'll settle for "bother" or "annoy." We're not a particularly proud publication. Please do not attempt anything described in any of these articles, except under strict hip-hop supervision. Similarities between events published here and any actual events involving pretty much anyone would really be a shame."
Another COVID-related rumor about Maxwell, widely circulated on July 2 but dated July 11, appeared in the form of a BBC News screenshot with the caption,
Former socialite and Epstein associate Ghislaine Maxwell has been moved to intensive care in hospital after her coronavirus symptoms worsened."
That one was fake, as well.
She was brought to Merrimack County Jail on July 2 to await transfer to New York state on charges of perjury and trafficking minors, including transport across state lines, a spokesman for the U.S. attorney's office in Manhattan said. According to Reuters.com, she is safe and well cared-for in Merrimack.
Lead Stories believes that it is important to debunk satirical writing because readers may not always see the joke and, thus, may pass on false information as fact on their social media sites. Further, it is important to distinguish between blatantly false writings and those that are satirical because the penalties are different for each kind. Here is Lead Stories' Satire Policy Statement: Satire Policy in the article:
This is the internet we are talking about. There are plenty of non-reasonable people around. Or perfectly reasonable people who lack the cultural context to get the joke. Or drunk people. Or kids. Sometimes jokes need to be fact checked. Not for you, because you are smart and you get the joke. But for the crazy uncle who thinks it is real. Or for the foreign journalist who doesn't know what The Onion is. Or for the people who missed the disclaimer and the hints. Or because the disclaimer and the hints were hidden on purpose.