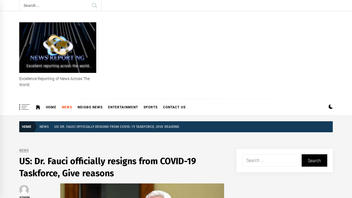 Did Dr. Anthony Fauci officially resign from the COVID-19 task force? No, that's not true. Dr. Anthony Fauci, the director of the National Institute of Allergy and Infectious Diseases at the National Institutes of Health, is currently still a member of the President's Coronavirus Task Force that was appointed by the White House on January 29, 2020.
The claim appeared as an article (archived here) where it was published by Newsreportng.com on July 14, 2020 under the title "US: Dr. Fauci Officially Resigns From COVID-19 Task Force, Gives Reasons." It opened:
Dr. Anthony Fauci tendered his resignation letter yesterday at the White House following his appointment as the head of the COVID-19 task force, saying, the reason for his resignation is that Donald Trump administration's propaganda machine. He said.
The National Institutes of Health denied the claim via email to Lead Stories on July 20, 2020. Renate Myles, deputy director for public affairs for the Office of Communications and Public Liaison at the National Institutes of Health, told Lead Stories:
That information is completely false. Dr. Fauci remains on the WH Coronavirus Task Force."
Here is a screengrab of the article: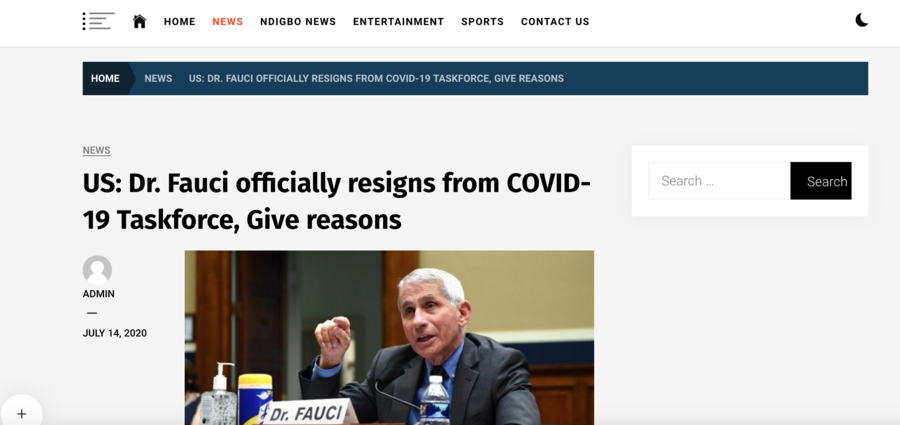 The only outlet to report this claim is NewsReportingNG.com. The Nigerian-based website says of its corporation:
Notch Communications Media Limited (NCML) nurtures the vision to compete with a multimedia outfit in Nigeria.

We are dedicated to promoting the principles of civilized nationalism, political, democracy, liberty, and the quality of the various ethnic groups in Nigeria. We are partisan neutral on the side of truth, justice, and good government. We shall tell our stories and narrate our events primarily in terms of people in the most beautiful form.
The article contains statements such as:
Trump was not happy following the resignation of Dr. Fauci at a time like this, that the Americans need his services to control a pandemic that has to ravage the entire world."
There are also purported quotes from Dr. Fauci in the article that have not been reported anywhere else:
Dr. Fauci said he was "ashamed to be a part of a task force that has become nothing more than an arm of the Trump administration's propaganda machine. We will let an excerpt from Fauci statement to speak for itself. "I have done everything I could to try to save the lives of my fellow Americans, and endeavor I have dedicated my professional life too. But I can no longer ignore the fact that this task force is having the exact opposite effect.


There is nothing to substantiate the validity of any of the quotes in the Newsreportng.com article, and the National Institutes of Health flatly denies the claim of resignation.
On July 19, 2020 President Donald Trump gave an interview to Fox News where he spoke about his relationship with Dr. Fauci and made no reference to a Fauci resignation report. Trump did speak about his relationship with Fauci:
Dr. Fauci's made some mistakes, but I have a very good -- I spoke to him yesterday at length -- I have a very good relationship with Dr. Fauci ... He's a little bit of an alarmist -- that's OK."
Here is a video of Trump's interview with Wallace on Fox News Sunday.