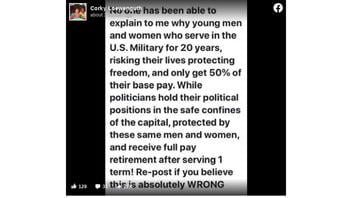 Do members of Congress receive a full-pay retirement after serving one term? No, that's not true. Regardless of length of service, federal law limits the starting payout to a member of Congress to no more than 80% of his or her final salary. U.S. senators, elected to six-year terms, and representatives, with two-year terms, must serve at least five years before becoming eligible for a federal pension.
The claim, appeared on Facebook as a post (archived here) where it was published April 12, 2020:
No one has been able to explain to me why young men and women who serve in the U.S. military for 20 years, risking their lives protecting freedom, and only get 50% of their base pay. While politicians hold their political positions in the safe confines of the capital, protected by these same men and women, and receive full pay retirement after serving 1 term."
This is what the post looked like on Facebook at the time of writing:
(Source: Facebook screenshot taken on Wed Jul 1 17:56:05 2020 UTC)
...Members of Congress are eligible for a pension at the age of 62 if they have completed at least 5 years of service. Members are eligible for a pension at age 50 if they have completed 20 years of service, or at any age after completing 25 years of service. The amount of the pension depends on length of service (as measured in months) and the average of the highest three years of salary. By law, the starting amount of a Member's retirement annuity may not exceed 80% of his or her final salary.
Active component personnel are eligible for retirement (i.e., vested) after completing 20 years of service (YOS). Reserve personnel are eligible after 20 years of creditable service based on a points system, but do not typically begin to draw retirement pay until age 60. Finally, those with a disability retirement do not need to have served 20 years to be eligible for retired pay; however, they must have been found unqualified for further service due to a permanent, stable disability.