STORY UPDATED: check for updates below.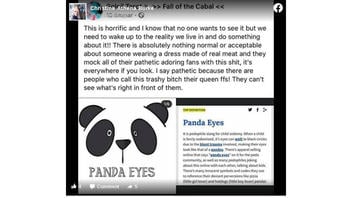 Is the term "panda eyes" a pedophile slang term for swollen, bruised eyes caused by sodomy? No, that's not true. There is no medical evidence sodomy causes these types of injuries in children and an image of a child often used in social media posts making the claim comes from a documentary shot in Gaza during the 2014 war. The pattern of bruising around her eye sockets, referred to by some as "panda eyes," were the result of war injuries, not sexual acts. There is no evidence to support the claim that such injuires are a real thing in "pedophile circles."
The claim appeared in a post (archived here) published on Facebook on July 19, 2020. It opened:
This is called "Panda Eyes" in the Pedophile circles. When a child is sodomized the TRAUMA can cause the capillaries to burst around the eyes."
Here is an example of a similar post making the same claim:
(Source: Facebook screenshot taken on Fri Jul 24 11:55:30 2020 UTC)
This is the photo used in the first post: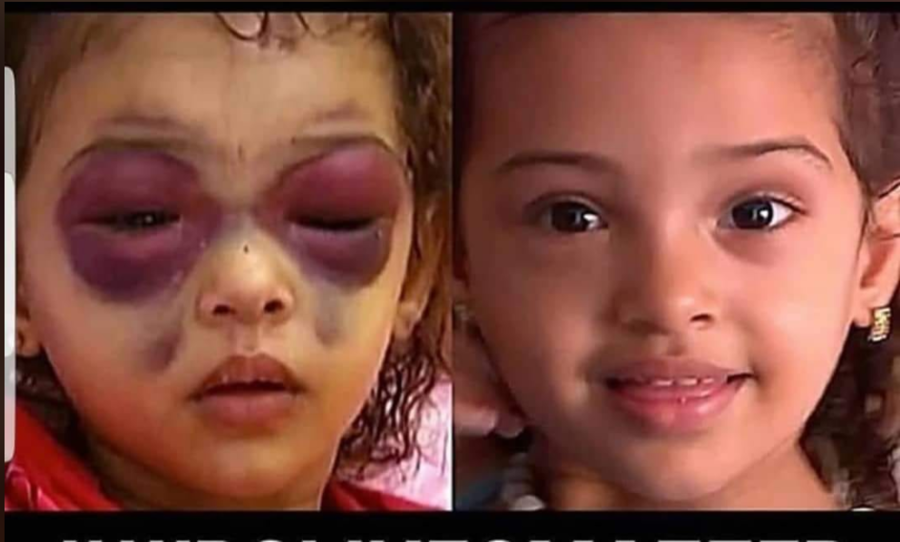 The photographs showing the little girl with hematomas around her eyes, and showing her healed a year later, come from a clip of the video, "Children of Gaza." The film was shot in Palestine by the documentary movie maker Jon Snow for the British broadcasting network Channel 4 and posted online in 2015.
The girl's name is Niema Habufu, which is revealed at 2:35 into the film. Snow makes it clear that the bruising is related to injuries she sustained in the bombings.
I met her in Yeshiva Hospital at the height of the war in 2014, injured in the bombing of Gaza," Snow says. "I returned to film her with her father at age four, recovered."
An often used screenshot claiming "Panda Eyes" is a term used by pedophiles appears to have originated on the website Urban Dictionary, as this tweet (archived here) seems to imply by including this screenshot: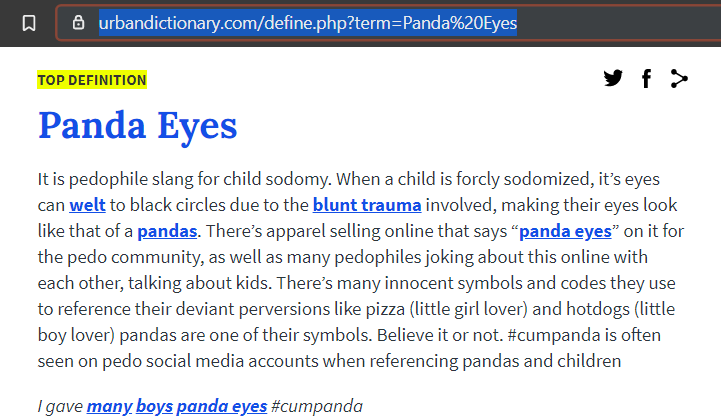 However at the time of writing that definition does not appear on Urban Dictionary, which is a crowdsourced dictionary website where users can enter definitions for any word or term they choose. The current entry has six definitions, two of which are sexual or violent in nature, but none of them reference pedophilia.
An older archived copy of the page shows more definitions but Lead Stories has been unable to locate an archived copy that contains the definition above.
Aaron Peckham, the founder and CEO of the site, wrote a blog post (archived here) on July 7, 2020 remarking the site had been increasingly used to post abusive content in recent years and promising to review procedures around removing such items. It is likely the definition in question was removed under these policies. We have reached out to Peckham for comment and will update this post when we hear back.
At the time of writing the the top definition of panda eyes on Urban Dictionary is from Aug. 8, 2011:
When a girl wearing mascara takes a shower and it causes her eyes to look dark like a panda."
The #2 definition from Jan. 29, 2006, reads:
work-a-holic. Someone who has a lack of sleep from working too much. He works so much he's got panda eyes."
Peer reviewed medical journals are in agreement that brain tumors and skull traumas are the main causes of swollen and discolored eye regions in children, and they do not mention sodomy as a possibility. A National Institutes of Health publication lays the blame for child eye-region bruising on head injuries:
"Raccoon eye is produced by blood tracking into periorbital tissues, causing blue or purple discoloration of the upper and lower eyelids, which is a frequent symptom after traumatic injuries to the head and neck."
PUBMED.gov gives this:
"Raccoon eyes are generally believed to be a common symptom of basal skull fractures. However, it may be a sign of some health-threatening situations such as amyloidosis, Kaposi's sarcoma, multiple myeloma, and neuroblastoma. In this case, we present an infant with the final diagnosis of neuroblastoma (tumor of the brain)."
The appearance of a child's eye area can be deceiving and, an NIH pediatric paper warns, "Periorbital swelling may initially be misinterpreted as child abuse." Factors for physicians to consider include initial tumor staging, tumor biology and the child's age.
Forensic sexual assault examiner Kimberly A. Basinger, RN, told Lead Stories, "I take care of child victims before court and I am called to testify in court. I have never seen this type of eye discoloration related to sodomy." Basinger, despite practising since 1996 and seeing close to 800 sexually abused children, had not heard the term "panda eyes" before speaking with Lead Stories. She adds:
Swelling can happen if the child has been crying for a long time. Other reasons for petechiae, or burst capillaries in the eyes are straining or bearing down from constipation, strangling, or violent vomiting."
Lead Stories has reached out to Children's Hospital of Colorado and the Kempe Center for Child Exploitation in Denver. So far, they have not replied.
Other social media posts sometimes link the sexual interpretation of "panda eyes" to pop star Lady Gaga. Here is an example of such a post:
(Source: Facebook screenshot taken on Fri Jul 24 12:54:20 2020 UTC)
But the post provides no evidence (photographic or documented) that Lady Gaga is sending out signals or doing anything other than wearing circular black makeup. The performer is well known for dark, fanciful eye makeup designs, going as far as creating her own makeup brand "Haus" (archived here) to create effects.
2020-07-24T13:01:11Z

2020-07-24T13:01:11Z

Updated to note the Urban Dictionary definition found in some social media posts does not actually appear on the site and that even if it ever did it was probably removed by the site operators.