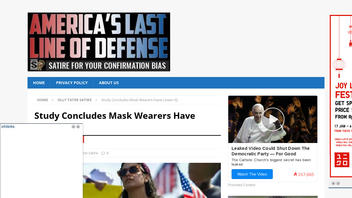 Did a study conclude that face mask wearers have a lower IQ? No, that's not true: This is a satirical claim published on a website that trolls conservatives. The study is fictional. Lead Stories does not fact check satire, but we published this story because content from this satire website is often stolen and republished without the satire labeling.
The claim originated in an article published by AmericasLastLineOfDefense.com on July 20, 2020 titled "Study Concludes Mask Wearers Have Lower IQ" (archived here) which opened:
According to the latest study by the Dunning-Kruger Institute, people who subscribe to the notion that masks will protect them have a lower IQ.

The study was conducted by none other than Dr. Joe Barron, Director of the Dunning-Kruger Institute.
Users on social media only saw this title, description and thumbnail:
This proves what us patriots already know.
Christopher Blair, the creator of the ALLOD network of satire websites, often puts clues in his stories that tip off the reader that the content is fictional. In this story, he references the Dunning-Kruger Institute as the source of the study. A quick Google search revealed there is no such institute, but Dunning-Kruger is a psychological term relating to cognitive bias. Psychology Today described it in an article titled The Dunning-Kruger President -- How did a psychology term become a partisan trending topic?:
Named for Cornell psychologist David Dunning and his then-grad student Justin Kruger, it describes the observation that people who are ignorant or unskilled in a given domain tend to believe they are much more competent than they are. Thus bad drivers believe they're good drivers, the humorless think they know what's funny, and people who've never held public office think they'd make a terrific president. How hard can it be?

Dunning and Kruger documented this effect in a number of quantitative contexts. Its first publication, in 1999, bore the memorable title, "Unskilled and Unaware of It: How Difficulties in Recognizing One's Own Incompetence Lead to Inflated Self-Assessments." The authors observed that you need skill and knowledge to judge how skilled and knowledgeable you are. A tone-deaf singer may be unable to distinguish her talent from that of the greatest stars. Why then shouldn't she believe she's their equal?
The site is part of the "America's Last Line of Defense" network of satire websites run by self-professed liberal troll Christopher Blair from Maine along with a loose confederation of friends and allies. He runs several websites and Facebook pages with visible satire disclaimers everywhere. They mostly publish made-up stories with headlines specifically created to trigger Republicans, conservatives and evangelical Christians into angrily sharing or commenting on the story on Facebook without actually reading the full article, exposing them to mockery and ridicule by fans of the sites and pages.
Every site in the network has an about page that reads (in part):
About Satire
Before you complain and decide satire is synonymous with "comedy":

sat·ire
ˈsaˌtī(ə)r
noun
The use of humor, irony, exaggeration, or ridicule to expose and criticize people's stupidity or vices, particularly in the context of contemporary politics and other topical issues.

Everything on this website is fiction. It is not a lie and it is not fake news because it is not real. If you believe that it is real, you should have your head examined. Any similarities between this site's pure fantasy and actual people, places, and events are purely coincidental and all images should be considered altered and satirical. See above if you're still having an issue with that satire thing.
Articles from Blair's sites frequently get copied by "real" fake news sites who omit the satire disclaimer and other hints the stories are fake. One of the most persistent networks of such sites is run by a man from Pakistan named Kashif Shahzad Khokhar (aka "DashiKashi") who has spammed hundreds of such stolen stories into conservative and right-wing Facebook pages in order to profit from the ad revenue.
When fact checkers point this out to the people liking and sharing these copycat stories some of them get mad at the fact checkers instead of directing their anger at the foreign spammers or the liberal satire writers. Others send a polite "thank you" note, which is much appreciated.
NewsGuard, a company that uses trained journalist to rank the reliability of websites, describes americaslastlineofdefense.com as:
A network of sites that publish false stories and hoaxes that are often mistaken for real news, run by hoax perpetrator Christopher Blair.
According to NewsGuard the site does not maintain basic standards of accuracy and accountability. Read their full assessment here.