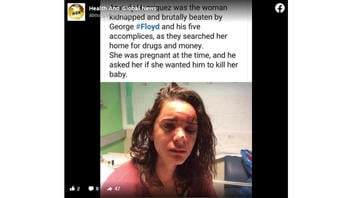 Did George Floyd brutally beat Aracely Henriquez during a home invasion robbery, and is this a photo of her injuries? No, neither is true: This is a photo of Andrea Sicignano, an American student who was raped in December of 2018 while studying abroad in Madrid. This is not a photo of Aracely Henriquez, the woman who was robbed by George Floyd in 2007. Additionally, although Aracely Henriquez was hit in the head and sides in the course of the robbery, it was not George Floyd who hit her.
The claim originated as a meme in a post (archived here) shared on Facebook on June 11, 2020. The post had no caption, but the text of the meme read:
Aracely Henriquez was the woman kidnapped and brutally beaten by George #Floyd and his five accomplices, as they searched her home for drugs and money.
She was pregnant at the time, and he asked her if she wanted him to kill her baby.
This is what the post looked like on Facebook at the time of writing:
(Source: Facebook screenshot taken on Tue Jul 7 14:57:57 2020 UTC)
A reverse image search with TinEye for the earliest online instances of the photo of the injured woman brings up news stories and a GoFundMe from late December of 2018. The harrowing tale of what happened to Andrea Sicignano was covered in many articles both in Europe and the USA after she came forward to tell what happened to her. The New York Daily News wrote (here) (archived here) an article titled, "Long Island native who shared viral story of sexual assault in Madrid finds peace after returning to New York." It quoted Andrea Sicignano:
I hope that my message can spread the awareness that the subject is due. It may encourage other girls to speak up about what happened to them, take action to find justice if they haven't already, or simply just know that they are not alone.
On June 12, 2020 Andrea Sicignano wrote a Facebook post (here)(archived here) about the misuse of her photo in this meme. She wrote:
There has been a photo of me circulating around on the internet since yesterday. The photo was taken of me in a hospital bed in Spain after being violently beaten and raped by a stranger. I posted my story over a year ago to use my voice to spread awareness and encourage other women to speak out about the injustices they've faced.

Today my photo is being used as political propaganda/click bait to make people believe that George Floyd deserved to die. I am disgusted and humiliated, not for myself, but for my country.

In less than 12 hours, over 7,000 people shared my photo in order to sensationalise a story. Many people captioned the photo with something along the lines of: "Look what the media is not telling us!!! Look what this monster did!!! We need to do our own research and not let the media control us!!!!!"

..........
..................
............................

If nothing else, please let this teach us a lesson that we CAN NOT BELIEVE everything we read on social media! Please stop getting your "facts" from Facebook. This is not, and should not be used as a news platform. As individuals we need to do better at understanding fact vs fiction in this world. (I recommend BBC)

If you see this photo being shared, I'm personally asking that you report it, and let that person know the truth.

My heart has been aching for my country recently. I've watched my home state of New York struggle for months while battling Covid which is very much still taking lives, including one that was very dear to me. And now the country (and world) has been fighting everyday for justice - something we have been PROMISED as Americans ..... And yet, here we are.

Please don't use this movement to spread hate and lies against Americans whose lives were unlawfully taken away from them and their families. Also, realise that exploiting someone else's trauma to push a deceitful agenda may be the lowest you can go. This is not the fuel we need to fight this fight.

I said it over a year ago, and I'll say it again:
"Things must change."
The details of what happened to Aracely Henriquez more than a decade earlier in Texas, on August 9, 2007, are outlined in court documents. There is no known public record stating if Aracely Henriquez was pregnant at the time, nor is there any record of George Floyd verbally threatening her by asking her if she wanted him to kill her baby. The following caption is from the statement of probable cause as formally written up in the criminal complaint by Officer J. Tapia. Here, George Floyd is described as the largest of the suspects:
The largest of these suspects forced his way into the residence, placed a pistol against the complainant's abdomen, and forced her into the living room area of the residence. This large suspect then proceeded to search the residence while another armed suspect guarded the complainant, who was struck in the head and side areas by this second armed suspect with his pistol after she screamed for help.
George Floyd pled guilty to these charges and was sentenced to five years in prison. A copy of the Harris County Texas Court Document from November 27, 2007 is here:
This hoax meme is undergoing some changes that may signal an attempt to circumvent Facebook's image recognition and text based searching. A post by David Harbsmeier which has been taken down or made private, was captured and continues to circulate as a screenshot. All three of these versions came from a screenshot taken when the post was 11 hours old. The captioning here is slightly different from the other meme, this one finishes with a dig against the News Media for not mentioning Aracely Henriquez when covering the killing of George Floyd.