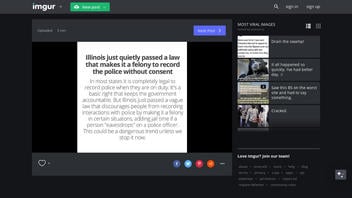 Did Illinois just quietly pass a law making it a felony to record police without consent? No, that's not true. Illinois did pass a law in 2014 that relates to "eavesdropping" devices to record "private conversations," but this does not apply to recording police officers performing their duties in public, making an arrest or during a protest.
The claim appeared as a post (archived here) where it was published on Instagram on August 6, 2020. It opened:
Illinois just quietly passed a law that makes it a felony to record the police without consent
This is what the post looked like on Instagram:
The post continued:
In most states it is completely legal to record police when they are on duty. It's a basic right that keeps the government accountable. But Illinois just passed a vague law that discourages people from recording interactions with police by making it a felony in certain situations, adding jail time if a person 'eavesdrops' on a police officer. This could be a dangerous trend unless we stop it now."
There is no "just passed" legislation in Illlinois regarding recording police on duty.
A measure passed in 2014 allows people to record police officers on the street while they're doing their job. The bill does not allow people to use an "eavesdropping device" to secretly record other people. Here is a link to the bill.
The bill, Illinois SB 1342, was enacted on December 30, 2014, after being signed by the governor. It remains in effect and it is not new.
The meme used in the Instagram post picture appears to be a screenshot of a 2014 online petition demanding the governor veto the measure after it was passed by the legislature. See the petition at the end of this article.
Chicagoist covered the bill's passage in 2014, noting that it is still legal for people to film a police officer in public. Here is a link to the article which explains why it is not illegal to film police officers on duty.
At issue here is what is defined as a private conversation and what is considered public. Break out your smartphone to record police politely interacting with citizens on a street as part of their job is allowed, and only if the person filming isn't interfering with a police officer's ability to carry out his or her job."
The ACLU worked with legislators on the bill and wrote about the details here:
This week, the Illinois House and Illinois Senate passed Senate Bill 1342, a measure designed to replace the Illinois Eavesdropping Act which was struck down by the Illinois Supreme Court earlier in 2014. The ACLU of Illinois worked closely with members of both the House and Senate to secure passage of a measure that restored all-party consent for audio recording conversations in Illinois and provides needed protections for civilians audio recording public officials doing their public duty in a public place. While the ACLU welcomed these developments that the measure also included an expansion of authority for police to record conversations without a judicial warrant."
Here is a link to an article written the law firm Appelman & Lloyd Inc. that breaks down the law, explaining that citizens can still record police officers making an arrest on the street or pulling someone over but that someone cannot use a wiretap to record the police.
1. You Can Still Record The Police

Simply put, you can still record the police, you just aren't allowed to eavesdrop on them. The law states that citizens may record an interaction so long as the involved parties don't have a reasonable expectation of privacy. For example, if you see a police officer arresting a resisting suspect on the sidewalk, you are more than welcome to record the ordeal. If you are pulled over for speeding, you can certainly record the interaction with the cop. On the other hand, you're not allowed to wiretap a phone or a squad car and collect information between parties who have a reasonable expectation of privacy, like in their home or office. Most times, police conduct their duties in the public sphere, so you are well within your right to record them.
This article from the Martin & Kent, LLC. law firm also discusses the bill, stating that "recording police is broadly held as a Constitutional right:"
While the Illinois statute does not explicitly allow the recording of police while they are performing their public duties, including conducting an arrest, the exemption for conversations that can have no reasonable expectation of privacy clearly contemplates allowing recording of such activities. Arrests are always public acts, even if the only people present are the officer and the suspect. The suspect has the right to record his arrest, either by video, audio, or both. Efforts to halt such recording would violate the suspect's constitutional rights. While such a violation of rights would have no bearing on the charges for which the suspect was arrested, it certainly could complicate the case."
Here is the 2014 petition that pushed for a gubernatorial veto on the law: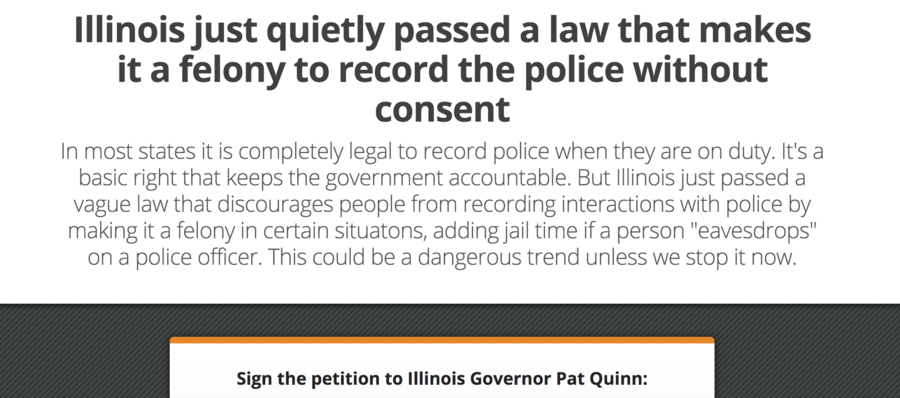 The Instagram post caption links to a 2014 article in HUFFPOST that specifically states filming police in Illinois is legal.
Lead Stories recently debunked a similar claim in Tuscon, Arizona:
Fact Check: The Tuscon City Council Did NOT Pass An Ordinance Making It Illegal To Video Police