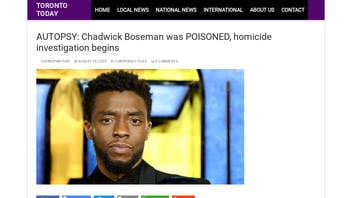 Was Chadwick Boseman poisoned? No, that's not true: The actor best known for his starring role in "Black Panther" died of colon cancer. There is no investigation into his death.
The claim appeared in an article (archived here) on August 29, 2020, on Toronto Today. Titled "AUTOPSY: Chadwick Boseman was POISONED, homicide investigation begins," it opened:
Actor Chadwick Boseman died Friday of poisoning, an early autopsy reveals. He was only 43.
Users on social media saw this title, description and thumbnail:
AUTOPSY: Chadwick Boseman was POISONED, homicide investigation begins | Toronto Today https://t.co/xLbhfvmNYt

-- Bai Qian (@MrsIsiuwe) August 31, 2020
Contrary to what the article claims, Boseman died of colon cancer. His death was confirmed in a statement posted to his Instagram and Twitter accounts.
He was diagnosed with stage III colon cancer in 2016; it progressed to stage IV. Over the years, he underwent surgeries and chemotherapy. You can read the full statement here:
August 29, 2020
Boseman's death was met with a mixture of sadness and shock, as he had not made his diagnosis public. Tributes poured in from all over the world.
"Black Panther" director Ryan Coogler wrote:
Chad deeply valued his privacy, and I wasn't privy to the details of his illness. After his family released their statement, I realized that he was living with the illness the entire time I knew him. Because he was a caretaker, a leader, and a man of faith, dignity and pride, he shielded his collaborators from his suffering. He lived a beautiful life. And he made great art. Day after day, year after year. That was who he was.
Former President Barack Obama, who met Boseman when the actor visited the White House to work with kids while playing Jackie Robinson, the first African American to play in Major League Baseball, wrote:
To be young, gifted, and Black; to use that power to give them heroes to look up to; to do it all while in pain - what a use of his years.