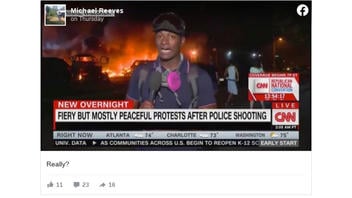 Did CNN use the words "FIERY BUT MOSTLY PEACEFUL PROTESTS AFTER POLICE SHOOTING" as the caption on video of a building and car-lot torched by protesters? Yes, this is true. The cable news network used the chyron -- a type of caption superimposed over video -- in a live report from Kenosha, Wisconsin that opens with a stand-up during which the building behind the reporter is engulfed in flames and billowing smoke. The clip, with the "FIERY BUT MOSTLY PEACEFUL" chyron was aired on CNN. It was not photoshopped and it is not fake.
The claim appeared as a post (archived here) where it was published on Facebook on Aug. 27, 2020. It opened:
Really?
This is what the post looked like on Facebook at the time of writing:
(Source: Facebook screenshot taken on Fri Aug 28 20:07:39 2020 UTC)
The report aired on CNN's "Early Start" show at 5:06 AM ET on Tuesday, Aug. 25, 2020. National correspondent Omar Jimenez was summarizing the Aug. 24 protests over the videotaped Aug. 23, 2020 shooting of 29-year-old Jacob Blake by Kenosha Police Officer Rusten Sheskey.
The video shows Jimenez in front of a burning building with flames pouring out. Here's what Jimenez said:
What you are seeing behind me is one of multiple locations that have been burning in Kenosha, Wisconsin over the course of a night. A second night since Jacob Black was seen shot in the back seven times by a police officer. What you are seeing now, these images, came and come in stark contrast to what we saw over the course of the daytime hours in Kenosha and into the early evening, which were largely peaceful demonstrations in the face of law enforcement, Jimenez said.


It wasn't until nightfall that things began to get a little bit more contentious. Things were thrown back and forth; police started using some of those crowd dispersal tactics like tear gas, even playing very loud sounds to push them out," he continued. "And then, what you're seeing, the common theme that ties all of this together, is an expression of anger and frustration over what people feel like has become an all-too-familiar story playing out in places from across the country, not just here in Kenosha, Wisconsin.
After the video was posted online and critics of CNN used it to mock the network, search engine traffic for the phrase "fiery but mostly peaceful" spiked, according to Google Trends.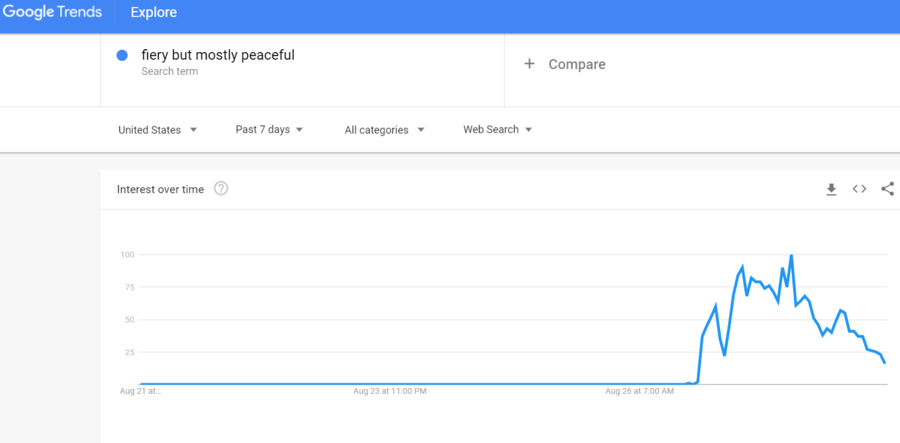 Multiple Tweets either embedded the video or featured a screenshot of the chyron with the inferno video in the background, including the following examples:
"FIERY BUT MOSTLY PEACEFUL PROTESTS AFTER POLICE SHOOTING" pic.twitter.com/4OHvKnh63u

-- Kelb Hull (@CalebJHull) August 27, 2020
Is it a requirement to deny objective reality if you work for CNN?

Is it a requirement to deny objective reality if you work for CNN? https://t.co/u8dIwMzjuy

-- Nick Short (@PoliticalShort) August 27, 2020

August 27, 2020
The chyron was real and CNN did air it.
The news segment aired before 17-year-old Kyle Rittenhouse of Antioch, Illinois allegedly shot two protesters and wounded a third on the streets of Kenosha. He was arrested and charged with first-degree intentional homicide.